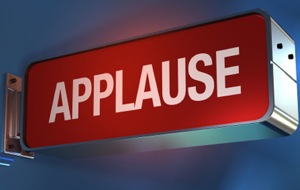 When we launched Mediaite in July of 2009, there were a lot of naysayers out there expressing confidence that we would quickly and embarrassingly fail. After all, they proclaimed nearly in unison, who needs "another media site?" If Mediaite had been just another "media site," like some other struggling New York based publications and web properties, they might have been right. But they never got what Colby Hall understood from the beginning, that Mediaite offered the chance to cover the intersection of media and politics in a way that had never been done before.
From day one, Colby saw the opportunity to cover politics using media personalities as the subjects, in a unique, opinionated but non-agenda driven fashion (though I know many from the fringes on both sides will challenge that assertion.) Colby placed his editorial stamp on so many aspects of the site and has been instrumental in creating the tone, sensibility and vision for a property that now welcomes well over 6 million unique visitors per month (including syndicated content). Considering how small our staff is — combined with a 24-hour and 7-day news cycle — that is nothing short of a herculean achievement, for which I will always remain grateful to him. Colby will be a major player in whatever endeavors he chooses to pursue and so while I am truly happy for him, I am also really sad to see him go. This was far from the first job Colby had been offered since he started with us, but it was one with which I could not remotely compete.
Looking back at our launch, I chuckled recalling one prospective editor candidate (after he was not offered the position) being quoted saying that he thought it could be a "dead end job." Colby taking on a big new job at Clear Channel (in addition to other prominent Mediaite alums moving on to significant jobs at CNN, New York Magazine, and WWD to name a few) doesn't just belie that claim, it makes me really proud.
So what happens now? Honestly, I have not decided yet. Filling that position would be/will be a tough task and it's not one that I am not going to rush. Colby will leave Mediaite in great shape. We have as strong a team in place as the site has ever had, anchored by indefatigable Senior Editor Jon Nicosia. I am confident that we will continue to grow on our successes as we head into another political season led by opinionated political columnists Tommy Christopher and Frances Martel (who often view issues from opposite sides) in addition to Alex Alvarez, Jon Bershad, and Jamie Crugnale
With that said, this is probably as good a time as any to publicly welcome Nando Di Fino to the team as Senior Editor leading our TV coverage. Nando comes to us from the Wall Street Journal where he had been covering pop culture and sports since 2008. Nando along with Jon will be leading the editorial on the site for now. So please direct all questions, comments, complaints and praise to them. I am sure the complaints are one part of the job Colby won't miss.
So thank you Colby, and to the rest of the team, I look forward to the exciting months ahead!
This is an opinion piece. The views expressed in this article are those of just the author.