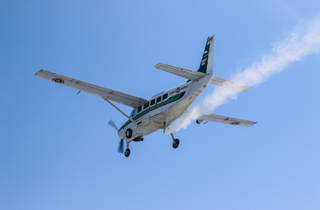 Good morning, everyone! You got your coffee and everything? Good! Because the Associated Press just published an explosive report revealing that the FBI has been spying on you, via a network of planes operated by fake companies that fly over you and can monitor you with video and cellphone surveillance technology.
Paranoia's a great way to start the day, isn't it?
According to the report, the FBI created a group of business fronts (with names like "FVX Research, KQM Aviation, NBR Aviation and PXW Services" that seem really fake in retrospect), stuffed the planes with surveillance equipment, and often flew them around cities for unclear purposes. (Many of the documents describing the program were censored by the Justice Department, and its operations do not require the approval of a judge.)
The planes contain both video equipment and Stingrays, the brand name of a technology that allows its user to monitor cell phone signals and identify the owners of specific cellphones. Flight patterns analyzed by the AP revealed that the planes often flew around large buildings and facilities for hours, such as the Mall of America in Minnesota, where "where aerial photography would be less effective than electronic signals collection."
So if anytime in the past twelve years, you've ever seen a plane circling in the sky for no reason, and wondered That's weird, maybe the plane's spying on me, you may have been right:
Details confirmed by the FBI track closely with published reports since at least 2003 that a government surveillance program might be behind suspicious-looking planes slowly circling neighborhoods. The AP traced at least 50 aircraft back to the FBI, and identified more than 100 flights since late April orbiting both major cities and rural areas.

One of the planes, photographed in flight last week by the AP in northern Virginia, bristled with unusual antennas under its fuselage and a camera on its left side. A federal budget document from 2010 mentioned at least 115 planes, including 90 Cessna aircraft, in the FBI's surveillance fleet.
The FBI vehemently denied that the planes were used for bulk data collection or to gather unrelated evidence for criminal investigations, but admitted that they often flew around areas of unrest to aid local law enforcement.For instance, here's the spy plane's flight pattern over Baltimore on the day of the riots surrounding Freddie Gray's death, via the AP:
Hilariously, the FBI asked the AP to redact the names of the fake companies, "saying that would saddle taxpayers with the expense of creating new cover companies to shield the government's involvement, and could endanger the planes and integrity of the surveillance missions." In response, the AP published the name of every company created by the FBI to fly these planes, and released a document describing how these companies were created, because screw 'em.
[h/t Reddit]
[Unrelated image of plane via Jaochainoi / Shutterstock.com]
—
>> Follow Tina Nguyen (@Tina_Nguyen) on Twitter
Have a tip we should know? [email protected]