FCC Asked To Block Nickelodeon Cartoon That's Reportedly A "Walking And Talking Ad" For Skechers Shoes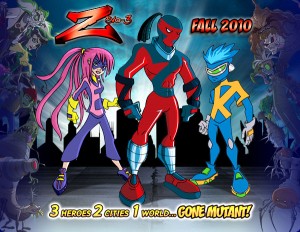 The Boston activist group Campaign for a Commercial Free Childhood has filed a petition with the FCC to block the upcoming Nickelodeon cartoon Zevo-3 which stars characters from ads for Skechers shoes and is being developed by Skechers Entertainment (!). The group fears that this show will pave the way for cartoons starring the likes of Ronald McDonald and that children's entertainment will become inundated with ads. We here at Mediaite fear that any cartoon that's basically a cartoon will probably just lead to a crappy Michael Bay movie 20 years from now. Clearly, prevention is the key.
The series, which is about "three teenage, super-powered heroes — tasked to save New Eden City from evil monsters," features popular characters from a series of commercials as well as a line of comic books that are included with the purchase of Skechers shoes. The CCFC is concerned that the program, set to debut in October, will essentially be an extra-long commercial for the shoe line. Perhaps they got this idea from the fact that trailers for the show are stored on the official "SKECHERScommercials" YouTube page.
From the Associated Press:
"Specifically, the complaint said the half-hour show would violate a federal requirement in the Children's Television Act that that no cable TV operator shall air more than 12 minutes of commercial matter per hour during children's programming. The show also would violate the FCC's requirement of a clear separation between commercial content and programming matter, the complaint said.
Kristen Van Cott, co-executive producer of 'Zevo-3' and a senior vice president of Skechers Entertainment, said she and her colleagues had worked hard to ensure the show conforms with FCC provisions and were confident it would air on schedule.
'Skechers Entertainment is tremendously proud of 'Zevo-3," she said in a statement. 'It's a fun, action-packed and beautifully animated series.'
There are no overt pitches for Skechers' products in the cartoons, and Van Cott said the plot lines 'often reflect issues that kids deal with on a daily basis — from peer pressure and bullying to relationships with family and friends.'
A spokesman for Nicktoons, David Bittler, responded concisely to the complaint: 'This show does not violate the Children's Television Act.'"
There is no sign yet on what the FCC's decision will be and at what time they'll come to it but, until then, we should all be comforted by the notion that the show could be worse. I mean, it could be Disney's Blam!.
Check out one of the original commercials below as well as the trailer for the new series.
(Via Advertising Age)
Have a tip we should know? tips@mediaite.com