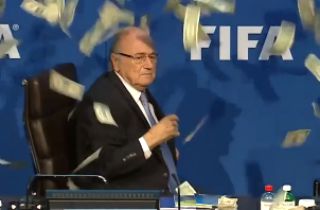 Sepp Blatter, the former president of the international soccer association FIFA, faced the media in Zurich in order to propose a series of transparency reforms in wake of the corruption scandal for which many of his associates were arrested.
What Blatter was probably not expecting, however, was that a notorious British prankster would gain entrance into the event, and push things back a few minutes when he "made it rain" all over the ex-president.
Lee Nelson, who commonly goes by the name of Simon Brodkin, is known for infiltrating and messing around with high-profile events, having once gotten on stage during a Kanye West concert, and even tried sneaking onto a plane that was being rented by the England football team. On Monday, Brodkin approached the podium with handfuls of fake banknotes, where he began a speech about how he was sent by North Korea in order to request the honor of hosting the 2026 World Cup tournament.
Blatter quickly called for security, but while Brodkin was being led away, he threw the wad of cash and continued his speech as the Blatter was left under the downpour of bills.
Blatter then approach the stand where he said that before he gave his speech, "this is nothing to do with football, we need to clean here first."
Later, Nelson took on another alias of his, Jason Bent, and posted a picture from the event, giving his excitement about being the Hermit Kingdom's unofficial delegate:
Excited to be at FIFA meeting Sepp Blatter to secure the #NorthKorea2026 World Cup. pic.twitter.com/7UV6spP8wc

— Jason Bent (@Jason9Bent) July 20, 2015
You can see the prank here, via The Guardian:
[h/t The Guardian]
[Image via screengrab]
Have a tip we should know? tips@mediaite.com