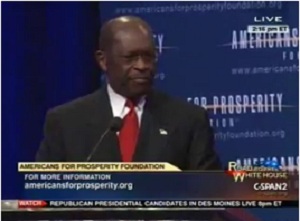 Those who spent part of last week waiting for the other shoe to drop in the Herman Cain alleged sexual harassment story can now throw another pump onto the pile, as a fifth woman has come forward to allege possibly inappropriate behavior by the embattled GOP frontrunner. The Washington Examiner reports that Donna Donella, a then-United States Agency for International Development worker, claims Cain tried to get her to arrange a dinner with a "lovely young lady" in the audience at a speech he gave in 2002.
Coming, as it does, on the heels of yesterday's disturbing allegations by Sharon Bialek, Donella's allegation might seem tame by comparison, but it also underscores the difference in the emotional impact of a source with a name and a set of specifics. From The Washington Examiner's Susan Ferrechio:
Donna Donella, 40, of Arlington, said the USAID paid Cain to deliver a speech to businessmen and women in Egypt in 2002, during which an Egyptian businesswoman in her 30s asked Cain a question.

"And after the seminar was over," Donella told The Washington Examiner, "Cain came over to me and a colleague and said, 'Could you put me in touch with that lovely young lady who asked the question, so I can give her a more thorough answer over dinner?'"

Donella, who no longer works for USAID, said they were suspicious of Cain's motives and declined to set up the date. Cain responded, "Then you and I can have dinner." That's when two female colleagues intervened and suggested they all go to dinner together, Donella said.
Donella goes on to say that she "couldn't swear that he had some untoward intentions, but we all thought his tone was suspect and we didn't feel comfortable putting him in touch with that woman."
She also claims that, at their group dinner, Cain ordered $800 worth of wine, then skipped out on the check.
On its own, Donella's tale is slightly creepy, but open to interpretation. Taken in context with Sharon Bialek's allegations, and those of the three other as-yet-unnamed accusers, it reinforces an ugly view of Cain's predatory behavior toward women.
There's another detail in this story, though, that gives it an extra political dimension. Donna Donella describes herself to The Examiner as an "independent who voted for Barack Obama," which is apparently enough to make her "an Obama supporter" in the eyes of at least one conservative blogger (strange, since another prominent conservative blogger contends that you can vote for Mitt Romney while simultaneously opposing him).
That little wrinkle could become fodder for a new wave of conservative defenses of Cain, shifting the source of victimhood from the dreaded liberal media, to Barack Obama.
Have a tip we should know? tips@mediaite.com