Media Outlets Struggle To Describe White House Chief Of Staff Bill Daley's Demotion
Media Outlets Struggle To Describe White House Chief Of Staff Bill Daley's Demotion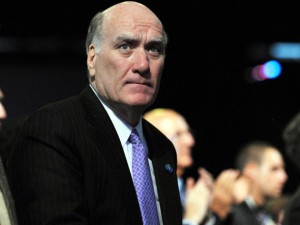 The nation is just waking up today to learn the rather huge political news that Chief of Staff Bill Daley's role at the White House is changing, with many outlets reporting that he is moving into a more of a "big picture" or "ambassador" role in the Obama administration. The news of Daley's evolving role at the White House, however, is just about as unclear and muddied as the administration's detractors claim the White House policies to be; is he being demoted? Is this move a recognition by President Obama that the last 11 months under Daley have been a political mess? Media outlets have all reported Daley's new role in different ways, which might provide more insight if we look at them as a whole.
Day-to-day operational duties are reportedly going to Pete Rouse, who filled in when Rahm Emanuel left the job for a successful mayoral bid in Chicago. Rouse is reportedly very close to Obama, and many insiders look back at the interim period in which Rouse served as Chief of Staff as a favorable period for the President. Specifically, this was the brief period, following last year's mid-terms, in which Obama got a number of key legislative victories, including the extension of unemployment benefits, the START treaty and the repeal of Don't Ask, Don't Tell. Daley was announced as the new Chief of Staff in the first week in January.
The specific role of Chief of Staff is different under every administration, though it is considered to be one of, if not the, most important roles in the White House. And if one accepts the current conventional wisdom that the last year has been a tough political one for President Obama, it's not unreasonable to see Daley's new role as a result of some potentially embarrassing gaffes. Even the most straight reports on Daley's new role, however, have not come out and called this a demotion.
Wall Street Journal's Carol Lee broke the story, and she led with recent White House missteps:
William M. Daley was hired to help resuscitate Barack Obama's presidency after deep Democratic losses in 2010. Ten months into his tenure as chief of staff, Mr. Daley's core responsibilities are shifting, following White House missteps in the debt-ceiling fight and in its relations with Republicans and Democrats in Congress.

On Monday, Mr. Daley turned over day-to-day management of the West Wing to Pete Rouse, a veteran aide to President Obama, according to several people familiar with the matter. It is unusual for a White House chief of staff to relinquish part of the job.

A senior White House official who attended Monday's staff meeting where Mr. Daley made the announcement said that his new role has not yet been fully defined. But in recent weeks, Mr. Daley has focused more on managing relations with influential outsiders.
Politico's Glenn Thrush cited Lee and piled on:
Daley's relationship with some of his West Wing colleagues has been strained, and many pined for Rouse, who served as a bridge between the volatile Rahm Emanuel, now the mayor of Chicago, and Daley, the son and brother of Chicago mayors — who assumed office just ten months ago.

Earlier this year, White House aides told POLITICO they were frustrated with Daley's top-down management style and insistence that mid-level aides be cut out of some meetings.
Fox News' White House Correspondent Ed Henry actually calls the role reassignment a demotion, getting an unnamed source to agree with that assessment.
The adviser confirmed a Wall St Journal report saying Daley was being demoted to make way for Pete Rouse, a close ally of the president dating back to his days as Obama's Senate Chief of Staff. He served as acting White House Chief of Staff until suggesting the full-time job go to Daley, who came aboard early this year to help shore up the president's standing after a bruising midterm election.
The Obama administration has had some big victories in the last year, though most have been from the realm of foreign policy. The domestic political landscape in the last year has been far less friendly to the White House, in particular a remarkably inimical relationship with Congressional leadership. Considering the botched scheduling of the joint session speech from early September, and what many see as a consistent capitulation to an obstructionist House GOP, the Daley era did not seem to be working. Only history will tell us if that's because of Daley or others in the White House, but until then, we now are (re)entering the Pete Rouse era in the Obama Administration. What Bill Daley will do — even if he is still the Chief of Staff — remains to be reported.
Have a tip we should know? tips@mediaite.com