Fiorina Interrupted a Reporter Asking Cruz About Infidelity to Call Trump a 'Serial Philanderer'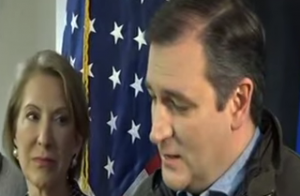 Last week, The National Enquirer accused Ted Cruz of having no less than five affairs. Cruz responded that the allegations were false, but it wasn't a very direct denial. He even blamed Donald Trump for planting the story, which Trump denied. Cruz is still insisting it was all Trump's doing.
There are a lot of unanswered questions here, as implicated mistress Amanda Carpenter knows all too well. Tensions have been high and accusations have been flying, so it's no surprise that a reporter from The Daily Mail tried to get Cruz to deny the allegations out-right when he was selected to ask the candidate a question. According to Real Clear Politics, this is the conversation that ensued after Cruz supporter Carly Fiorina jumped in:
FIORINA: If I may–

REPORTER: No, I'm sorry, I asked the senator that question.

FIORINA: I'm going to comment, okay?

REPORTER: Do you have first-hand knowledge of the senator's marriage?

FIORINA: I'm going to comment. This is an example of the media playing to Donald Trump's tune. Donald Trump is a serial philanderer, by his own admission. And in a week when we have had a terrorist attack in Brussels, a shooting at the Capitol, the president of the U.S. in the baseball stands with Raul Castro, and insisting he be photographed in front of a picture of Che Guevara with the two Castro brothers, we are talking about a scurrilous, ridiculous piece in theNational Enquirer? Why? Why? Why do you dance to Donald Trump's tune? Let's talk about the issues.
Fiorina, then, is repeating the company line that Trump planted the story.
Watch below to see the whole thing in action.
It doesn't appear that any definitive answers are forthcoming, unless you count the phone numbers that the D.C. Madam's former lawyer is threatening to release and even that may not tell us what is going on with Ted and Heidi Cruz.
[h/t RCP]
[image via screengrab]
For more from Lindsey, follow her on Twitter.
Have a tip we should know? tips@mediaite.com