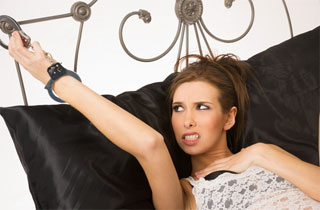 London firefighters, apparently the only people in the city with regular access to hydraulic cutting equipment, are bracing for a wave of people being injured by bad bondage things after the release of Fifty Shades of Grey.
Fire brigade members speaking to the London Evening-Standard said that they've seen an spike in reported "handcuff incidents" since the book's release in 2011, reporting "472 cases of people being trapped or stuck, often in household items" between 2013 and 2014. With the premiere of the bad movie this Friday, however, they worry that instead of fighting fires and getting people out of crushed cars, their resources could be tied up with people who can't bondage good,
Dave Brown, Third Officer of the London Fire Brigade, begged the public to "use common sense" when it comes to sexy bondage times, and to only call emergency services in the case of, y'know, actual emergencies. "If there's a genuine emergency, fire crews will of course attend and will be on the scene to help within minutes," he said.
This is the kind of stuff the brave firefighters of London have to put up with:
In one instance in November last year the brigade was called by doctors to King's College Hospital to help remove two steel rings which had been stuck on his penis for three days.

Firefighters were eventually able to remove them using hydraulic cutting equipment after the unfortunate incident.
Meanwhile in America, emergency workers sighed and traded stories of things they found in their patients's butts.
[The London Evening-Standard]
[Image via Shutterstock]
—
>> Follow Tina Nguyen (@Tina_Nguyen) on Twitter
Have a tip we should know? tips@mediaite.com