Fmr Mexican President Rips Trump: We're Not Paying For His 'Stupid, Useless' Wall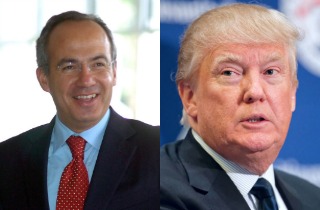 Donald Trump loves talking how he's going to build a wall across the Mexican border to keep out illegal immigrants, but if he still expects the Mexican government will pay for it as compensation to America, the nation's former president says the plutocrat's got another thing coming.
Trump might need to resort to his tariff backup plan if Felipe Calderón's words to CNBC hold true (and there's a good chance they will). Mexico's former leader blasted the mogul by saying it was "incredible" that Trump could be a serious candidate in the U.S., and he insisted that America won't get a dime if they seriously expect that his countrymen will go along with the plan.
"Mexican people, we are not going to pay any single cent for such a stupid wall! And it's going to be completely useless," Calderón said. "The first loser of such a policy would be the United States. If this guy pretends that closing the borders to anywhere either for trade (or) for people is going to provide prosperity to the United States, he is completely crazy."
Calderón went on to point out how immigration to the U.S. has been shrinking in recent years and that recent economic and educational booms in Mexico have made people less incentivized to travel north to find work. Trump, of course, has been blasting Mexicans and various other groups since his presidential run began, to which Calderón said he couldn't fathom how a "quite admirable society" like the U.S. could find his proposals appealing or realistic.
"I cannot understand that. No offense, to America," Calderon said. "So Donald Trump… is ambitious but not exactly very well-informed man, I don't want to say ignorant, but he is not very well informed."
[h/t CNBC]
[Images via wikimedia]
— —
>> Follow Ken Meyer (@KenMeyer91) on Twitter
Have a tip we should know? tips@mediaite.com