For Better Or Worse: Marriage Proposal On WFAN's Mike Francesa Show Silenced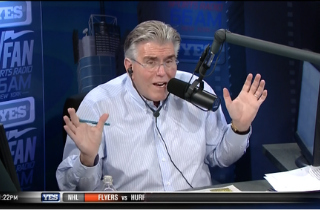 Men are always trying to outdo themselves on the marriage proposal front.
Some rent airplanes to pop the question.
Others use stadium jumbotrons.
And a select few, for better or worse, attempt to get engaged via the sports talk radio route.
That's just what Moe from New Jersey had in mind when calling up New York-based WFAN and Mike Francesa's show on Thursday afternoon. Hot topics of the day included A-Rod, Giants opening training camp, a controversial and oft-injured Yankee third baseman with a bloated contract, and Alex Rodriguez.
Like most callers to the show, Moe waited on hold for a long time. But when the time finally came, he made sure his girlfriend was there by his side when going live with New York's #1 sports radio host.
As you can hear here, Moe began by saying he and his girlfriend, Cindy, were big fans of the Mets and Mike's show. After stating he was nervous, Moe forged ahead, declaring he would "ask her in front of the whole New York…" before Francesa—who oddly has direct control of the phones and can terminate calls at the press of a button (producers, not hosts, usually have control on the board)—abruptly ended the call and what sounded like an impending marriage proposal.
It is not known if Moe knew the call was dropped before asking the question, nor if Cindy said yes. It's also not known if asking the big question was actually Moe's intention in the first place.
So while that is one of the more classic moments in sports radio history (and an easy way to bash Francesa in the process), it should be noted that pranks happen all the time in the radio business. A Howard Stern fan made the practice famous during his call to Peter Jennings during the O.J. chase and is arguably the most awesome example. That said, a seven-second delay exists at almost all stations for that reason. But it still doesn't stop some from attempting to temporarily sabotage a show in pursuit of five seconds of glory in a YouTube world.
Having said that, it did seem Moe was the genuine article, and there was a good chance a ring, bended knee and champagne were involved on his end of the line.
But don't blame a cautious Francesa for being the anti-Cupid.
Because as a host with a huge audience in the most outspoken city in the world, there are plenty of arrows aimed his way every day.
— —
>> Follow Joe Concha on Twitter @ConchSports
Have a tip we should know? tips@mediaite.com