For the Second Week in a Row, Piers Morgan is Under Fire for Critique of Black Issues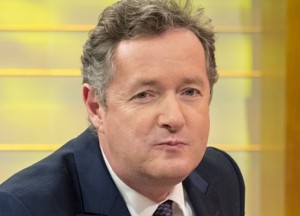 Today on Twitter, one user posed the question, "Why the hell is Piers Morgan trending every other day?" Morgan, never one to ignore his mentions on the app, responded with this:
Because I write columns that get people talking. https://t.co/QA0I0Yy5jp

— Piers Morgan (@piersmorgan) May 2, 2016
Those "columns that get people talking" are especially noteworthy because often, they are critiques of the behavior of members of communities to which Morgan himself does not belong. Specifically, as a white man, it is his frequent columns condemning the behavior of women and people of color that draw ire from those who believe he is acting out of line.
While he is a columnist and his job is literally to provide his opinion on hot topics, some groups think he goes too far when it comes to opining on and advising communities he is unaffiliated with. Recently, he condemned the way Michelle Fields handled her alleged assault at the hands of Corey Lewandowski. He also found himself in hot water after endeavoring to dictate how Susan Sarandon should dress.
Just last week, it was his column lamenting that Beyoncé has gotten too political and is no longer entertaining to him that got him on the bad side of a number of commentators. That came after Bey released Lemonade, an hour-long special and album that tackle, among other things, issues like police brutality and racism.
Once again, Morgan has piped up on the topic of race relations. This time, he went after Larry Wilmore for using the n-word to address President Barack Obama at this year's White House Correspondents' Dinner. Plenty of people of color have already expressed that they found the comment tasteful and humorous and that it was not a remark meant for white consumption or critique, but there are more opinions and tweets to be had now that Morgan has released his take on it, just as people predicted he would.
Piers Morgan's next troll piece just wrote itself

— John Legend (@johnlegend) May 1, 2016
live view of piers morgan writing his thinkpiece about larry wilmore pic.twitter.com/XIgCxADrPb

— Desus Nice (@desusnice) May 1, 2016
Here's that column you wanted me to write, @johnlegend: https://t.co/nGUW0MqFXQ #WHCD

— Piers Morgan (@piersmorgan) May 2, 2016

In his piece, he wrote that Obama "deserves better" than that word. The reaction was still harsh in spite of his relatively positive words regarding the president.
@piersmorgan For God's sake, Morgan. Stop blithering on about black artists and culture like they're something you understand x

— John Sharp (@speckykweer) May 2, 2016
Of course, he's been responding:
I love black artists & black culture. Why would you think otherwise? https://t.co/17FrjXNwt1

— Piers Morgan (@piersmorgan) May 2, 2016
The anger over his column was multi-faceted.
this just in: according to @piersmorgan white ppl weren't calling Obama the n-word til @larrywilmore did at #WHCD lol

— Franchesca Ramsey (@chescaleigh) May 2, 2016
He has continued to argue back on Twitter.
You using me to try to get on TV again, Franchesca? https://t.co/19IMCGSvCK

— Piers Morgan (@piersmorgan) May 2, 2016
Although many of the reactions are annoyed…
why is Piers Morgan now like the media's leading commentator on black issues??

— shon faye (@shonfaye) May 2, 2016
Hey, Black people. Maybe don't retweet Piers Morgan's article today. He's using us for clicks and to remain relevant—AGAIN.

— ☔️ Imani Gandy ☔️ (@AngryBlackLady) May 2, 2016
Piers Morgan's obsession with Black people makes me wonder are any trapped in his basement right now. Like it's out of control.

— Trudy (@thetrudz) May 2, 2016
@piersmorgan pic.twitter.com/7KEUrQjYEy

— Dinah Yaqub (@DinahYaqub) May 2, 2016
…he did retweet this, which proves that there are still those who agree with him.
Why this perfectly reasonable argument by @piersmorgan gets any heat is beyond me.https://t.co/lEl3YO28Si

— Fasting Foodie (@AngryFoodie2015) May 2, 2016
That concludes your Piers Morgan watch for the day.
[image via Twitter]
For more from Lindsey, go to Twitter or Facebook.
Have a tip we should know? tips@mediaite.com