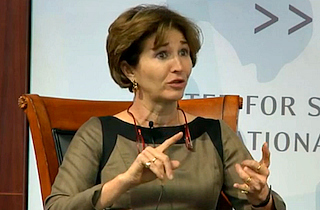 Former Hillary Clinton aide Anne-Marie Slaughter said Tuesday that Syria was "the Rwanda of this administration," a mass killing it failed to stop.
The comment could be an early indication of how Clinton, who supported a more aggressive policy against Syrian President Bashar al Assad, might detach herself from the Obama administration's foreign policy for 2016. Clinton aides have been whispering for some months about her desire for a stronger Syrian response.
"Here we are, three years later, 200,000 people destroyed, over half the Syrian populations displaced," Slaughter told Nina Easton in an interview at the Center for Strategic and International Studies. "We will never put Syria back together again the way it has been. On top of that we are watching the world's cultural heritage be destroyed."
Slaughter said that some of the policies regional powers want to pursue now were ones she had recommended to the Obama administration three years ago, but are much more difficult to implement now after the rise of ISIS and al Nusra.
"Do I know that had we done that three years ago?" Slaughter said. "No, absolutely not. There's no way you can say that. Maybe it owuld have been worse. But I'll follow Hillary Clinton: I'd rather caught trying."
The Syrian uprising just marked its fourth anniversary; over 200,000 have died in battle, both from Assad's brutal repression and the birth of ISIS. Obama decided against arming the Syrian Free Army at the start of the conflict, fearing the weapons would end up in the hands of insurgent groups, a move critics say allowed Assad to get the upper hand and let ISIS run free.
Watch the interivew below, via Fortune:
[h/t Fortune]
[Image via screengrab]
——
>> Follow Evan McMurry (@evanmcmurry) on Twitter
Have a tip we should know? tips@mediaite.com