Former Fox Contributor Bo Dietl to Challenge 'Big Bird' de Blasio in NYC Mayoral Bid: 'I Got Balls!'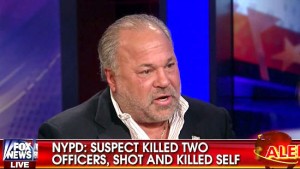 One week after being let go by Fox News as a regular contributor, former NYPD detective and all-around local jabroni Bo Dietl announced his intentions to run for Mayor of New York City in 2017.
Dietl — whose best hits include calling for profiling of people who "start growing that facial hair" and defending Roger Ailes against sexual harassment accusations that were "a load of bullshit" — is now turning his attention to incumbent NYC Mayor Bill de Blasio. Dietl sounded off vociferously this morning on AM 970 The Answer with host Joe Piscopo against the Mayor, who Dietl repeatedly and hysterically referred to "Big Bird."
"And this Big Bird de Blasio," said Dietl to the sound of Piscopo's laughter, "I saw him two weeks ago, I told him: Big Bird, I'm coming for you!" He also sounded off about taking "a bulldozer" to bike lanes in the city, which he sees as being a cause of traffic and congestion.
"It's turning into a toilet bowl!" he exclaimed about his home city to Piscopo, comparing the liberal policies of Manhattan to cities like Newark, Chicago, or Detroit. He continued passionately:
I'm gonna run [de Blasio] in the primary, the Democratic primary… no one's got no balls to run against him. I got balls to come in. I'm coming after him. I'm gonna get all the support across the board. I want asians, blacks, Hispanics. New York is the everybody city, and it's not going to be put into the toilet bowl.
"When people walk the streets of New York City, I want them to feel comfortable," he said, clarifying to Piscopo that he will be running as a Democrat to challenge de Blasio head-on, though noted that if the Republicans or an Independent offer handed him their nomination he would consider accepting.
Shortly before Dietl was released by Fox News, New York Magazine's Gabriel Sherman reported that Dietl employed investigators who tailed not only Sherman, but also the woman who accused Bill O'Reilly of sexual harassment over a decade ago. Dietl denied the accusations, responding, "I have never been hired to do anything like that."
"I wanna save this city," he concluded to Piscopo this morning. The next Mayoral election for New York City will be held in November 2017. Regardless of what happens this November with Bo Dietl's presidential candidate of choice, it seems as if much of the same right-wing rhetoric will be broadcast as least to New Yorkers for quite a while… this time, however, under the "Democrat" banner, if Dietl is to be believed.
Listen above via AM 970 The Answer with Joe Piscopo.
—
[image via Fox news screengrab]
Have a tip we should know? tips@mediaite.com