Former Romney Advisor: Media Making Excuses For WH Scandals Are 'The Pro-Obama Equivalent Of Birthers'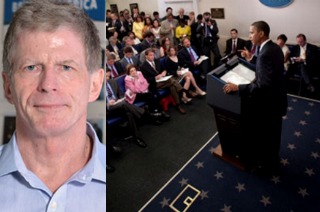 A scathing opinion post in The Daily Beast by former strategic advisor to Mitt Romney's presidential campaign, Stuart Stevens, takes aim at the members of the media making excuses for President Barack Obama as his administration is engulfed in a variety of scandals. "They are the pro-Obama equivalent of Birthers," Stevens writes in a searing indictment of the political press, "never letting emerging facts cloud the conclusion they've already committed to hold."

"What would you think of a president under whom the IRS targeted his harshest political opponents, during his reelection campaign?" Stevens asks the press in his Wednesday opinion piece. "What would you think of a president whose obsession with leaks and secrecy was so great that he used the Justice Department to obtain phone records of reporters, in violation of Justice's established procedure?"
He goes on to ask what the press would think of a generic president who presided over a Department of Justice which declared an investigative journalists a part of a conspiracy to violate the Espionage Act or disseminated false information to explain the death of an American ambassador in a terrorist attack.
"These are not hypothetical questions—and yet there is an entire class of journalist so invested in a certain moral and ethical image of the president its members are unable to entertain facts that might tarnish that image," Stevens notes.
He specifically names The Washington Post's E.J. Dionne, Walter Pincus and Reuters' Jack Shafer as "journalists who did not hesitate to assume the worst of previous Republican administrations," but have made a virtue of absolving Obama of fault as the assorted scandals involving his administration continue to unfold.
It's as if the administration is playing a game to see just how far it can push its true believers in the press corps before some semblance of self-respect emerges and they push back. You can picture White House staffers chortling in amazement as they pick up the Washington Post to read Pincus's stern defense of criminalizing journalism. They must be asking themselves, "What do we have to do to get these people angry?"
Read the full opinion piece via The Daily Beast
> >Follow Noah Rothman (@NoahCRothman) on Twitter
Have a tip we should know? tips@mediaite.com