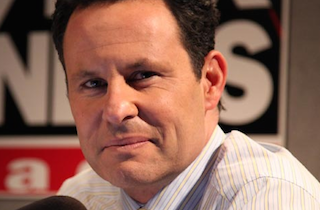 When Brian Kilmeade finishes hosting Fox & Friends every morning, he moves on over to Fox News Radio to host Kilmeade & Friends. On Wednesday, he welcomes current Fox host Martha MacCallum along with outgoing host Alisyn Camerota on the show for a discussion about climate change.
Camerota ended up being the "voice of science" on the show because she has accepted that "there are some facts out there" showing that the Earth has gotten warmer in recent years. And even though it may only be an average of one degree Fahrenheit (or 1.3°F to 1.9°F since 1895, according to the new White House report), "that has repercussions."
"Put a sweater on," Kilmeade suggested. "Or take a sweater off." When Camerota pointed out the melting of ice sheets in Greenland as one potential cause for concern, he came back with, "Who needs things frozen? Everything needs to be frozen for you to be happy?"
MacCallum fell somewhere between Kilmeade and Camerota on the skeptic spectrum, saying that while she believes the Earth has gotten warmer, she's not willing to say that rise in temperature has been caused by the presence of humans as at least 97% of scientists believe. In fact, she had an alternative theory.
"I mean the climate has changed over the course of the thousands and thousands of years that the Earth has been in existence, it has changed, you know, by several degrees up and down over the course of it," MacCallum said. "I just don't think that there is convincing evidence that the presence of man has altered that more dramatically than say the earth being covered with volcanoes emitting, you know, naturally noxious gases."
After a few more laughs, the group decided that even if humans are causing the Earth to get dangerously warmer, there's no reason for the United States to "cripple our economy" to fix the problem while nations like China and India continue to pollute.
Listen to audio below, via Fox News Radio:
[h/t MMfA]
[Photo via Fox]
— —
>> Follow Matt Wilstein (@TheMattWilstein) on Twitter
Have a tip we should know? tips@mediaite.com