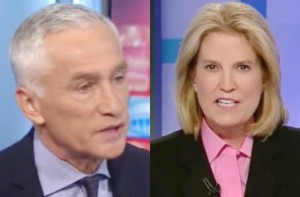 Fox News anchor Greta Van Susteren took to Facebook Thursday morning to criticize Univision anchor Jorge Ramos for his conduct at a Donald Trump press conference, accusing him of just trying to advance his career.
What appeared to irk Van Susteren was a quote from Ramos: "I am a reporter, an immigrant, and a U.S. citizen, and I have the right to ask any questions of anyone." She posted a picture of Ramos with that quote on it, and criticized what she considered his faulty understanding of the Constitution.
"Univison anchor Jorge Ramos – see quote – is wrong," she said. "The Constitution doesn't give anyone the right to ASK questions. The Constitutional right is to free speech could include asking a question but no one is required to answer a question and the right to free speech is not absolute. For instance, you also need permission to be some place (eg public space, not private or rented by other) and not be disorderly. You can't come into my house and just start asking questions and demand that I answer."
"One other thing," Van Susteren continued, "if the protocol of a particular press conference is to first be recognized to ask a question, it is rude to simply stand up and insist on a question be answered out of turn."
"Note finally: Ramos was invited back into the press conference and he did ask a question and Trump did answer it. Ramos got what he wanted – his question answered and to make a scene in an effort to advance his career," she concluded.
[Images via screengrab]
——
>>Follow Alex Griswold (@HashtagGriswold) on Twitter
Have a tip we should know? tips@mediaite.com