Megyn Kelly Calmly Explains to Beck That America is Stuck With the Current Presidential Candidates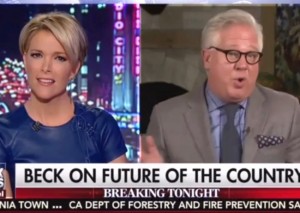 Tonight, Glenn Beck appeared on Fox News' The Kelly File to talk about Donald Trump, among other things. Beck has never been a fan of Trump and even defended Kelly in her feud with the mogul, so his appearance on the show wasn't too surprising, even given his contentious history with Fox.
He doesn't like Trump, but he also doesn't like Hillary Clinton. He complained about both tonight at length.
Finally, Kelly was tasked with explaining to him that whether he liked it or not, Trump and Clinton are the nominees of the two major parties and no third-party candidate has a realistic shot at the presidency.
"These are the choices you have," she said. "You can go for Gary Johnson, but you know realistically Gary Johnson has no chance. So, if you will, what do you plan on doing? Secondly, what do you see? One of these people is going to be the next President, barring something huge happening between now and November. So, how do you see America in four years?"
Beck responded with one of his infamously hyperbolic this-or-that analogies, so Kelly brushed him off, with, "You're staying home. You're doing the write-in vote."
He said that no, he planned to vote, but he went on to say he planned to vote for "the under-ticket," so she tried to cut him off again by asking once more how he sees America if Clinton or Trump wins.
Watch above to see him reveal his prophecies.
[image via screengrab]
Have a tip we should know? tips@mediaite.com