Fraternal Order of Police Promises An Ominous-Sounding 'Surprise' for Quentin Tarantino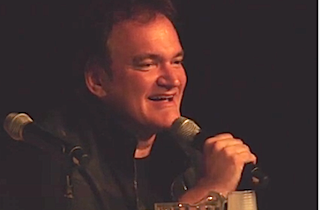 The Fraternal Order of Police, the largest police union in the country, is definitely not ready to let things go for Quentin Tarantino, having promised today that there's a "surprise" coming for the acclaimed film director.
Tarantino isn't exactly popular with law enforcement right now, having earned the ire of policemen and various media figures for a series of statements he made at an anti-police brutality rally last week. Jim Pasco, the FOP's executive director, sent a statement to Hollywood Reporter where he blasted Tarantino for supposedly calling cops "murderers," and implied that "something is in the works," in addition to boycotting The Hateful Eight.
"Tarantino has made a good living out of violence and surprise. Our offices make a living trying to stop violence, but surprise is not out of the question," Pasco said. "Something could happen anytime between now and [the premiere]. And a lot of it is going to be driven by Tarantino, who is nothing if not predictable."
Pasco did not specify what he was talking about, saying only that the FoP would be "opportunistic," that the element of surprise would be in play, and that "[they'll] try to hurt him in the only way that seems to matter to him, and that's economically."
The director was reportedly asked specifically whether his threat was a physical one, to which, he answered no, and that "police officers protect people. They don't go out to hurt people."
Tarantino has defended his remarks over the last few days, saying in interviews that he never said all cops are murderers, and that critics are trying to misrepresent and intimidate him to avoid talking about the issues.
[image via screengrab]
Have a tip we should know? tips@mediaite.com