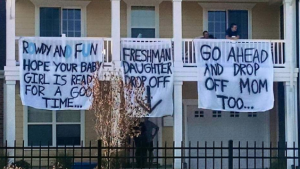 A fraternity associated with Old Dominion University in Norfolk, Virginia is under fire for creating and hanging several questionable signs during the school's welcome week.
According to Jezebel, Sigma Nu's Eta Chi chapter posted three spray-painted signs that read "Rowdy and fun / Hope your baby girl is ready for a good time," "Freshman daughter drop off," and "Go ahead and drop off mom too." Needless to say, the signs immediately caused controversy — on campus at first, and then online once the above photo went viral.
Several official responses were almost immediately issued to the press. The first came from the administration at ODU:
Messages like the ones displayed yesterday by a few students on the balcony of their private residence are not and will not be tolerated. The moment University staff became aware of these banners, they worked to have them removed. At ODU, we foster a community of respect and dignity, and these messages sickened us. They are not representative of our 3,000 faculty and staff, 25,000 students, and 130,000 alumni.
The came from the ODU Student Government Association in the form of a YouTube video, and the third direct from the university president himself, John Broderick:
"I said at my State of the University address that there is zero tolerance on this campus for sexual assault and sexual harassment. This incident will be reviewed by those on campus empowered to do so. Any student found to have violated the code of conduct will be subject to disciplinary action."
Jezebel's Rachel Vorona Cote tried calling the Sigma Nu Eta Chi chapter's residence, but was deflected. However, the fraternity's National Director of Risk Reduction, Fred Dobry said in a statement:
"Sigma Nu Fraternity is investigating this matter, and based on what we know at this point, Fraternity members at ODU are not responsible for these offensive banners. While four members of the ODU chapter live in the building where the banners were displayed, initial information indicates individuals not associated with Sigma Nu Fraternity are responsible for the banners. Our investigation is continuing."
Yet on Saturday, reporters on the ground found indications that the banners were in fact made nearby and hung outside the Sigma Nu fraternity home. In addition, those present at the time were actively trying to cover up any remaining evidence.
Sure enough, Jezebel received an official statement on Sunday from Michael Faust, ODU's Interfraternity Council President, claiming that Sigma Nu members were in fact responsible for the signs:
"This was an embarrassing, unacceptable action that the general Greek community strongly denounces. The actions of these few fraternity members do not represent the values that they pledged to uphold. The Interfraternity Council's judicial board will review this incident."
Welcome to modern college life in the United States of America, ODU Class of 2019. Maybe things will improve by the time you walk across the stage to receive your diploma. Probably not.
UPDATE – 8:45 PM E.S.T Brad Beacham, the executive director of Sigma Nu's national headquarters, gave a responding statement to NBC News. The largest news that his statement included was that the frat has been suspended from the national organization while the school investigates the incident.
"Information received by the fraternity today indicates that some chapter members may have had involvement with the banners," Beachmam's statement read. ""Any fraternity member found to be responsible for this reprehensible display will be held accountable."
The school also reportedly released a statement on a local radio station, saying that messages like those on the signs would not be tolerated.
[h/t Jezebel]
[Image via Facebook]
— —
>> Follow Andrew Husband (@AndrewHusband) on Twitter
Have a tip we should know? [email protected]