Fun Fact Friday: Birther Pastor 'Proves' That Mitt Romney And Newt Gingrich Are Black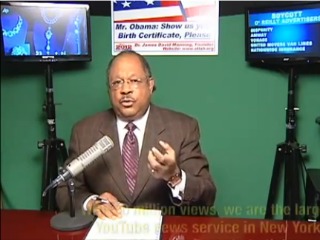 The Noveau Birther Movement (The Racers, perhaps?) has honed in on two rather unlikely targets: GOP candidates Mitt Romney and Newt Gingrich. See, one of the "birther" movement's earliest proponents, James David Manning (chief pastor of New York City's ATLAH World Missionary Church, located in "All The Land Anointed Holy," or Harlem) is asking the question no one else is asking: Are Gingrich and Romney black?
Pastor Manning took to The Manning Report to lay out the evidence supporting his theory. "I have got some inside information about Newt Gingrich," he told viewers. "And I have a strange suspicion the reason why Newt is so erratic and unpredictable is that I believe Newt Gingrich's father was a liberal — educated — black man. I do."
"Called it!" – Everyone.
RELATED: CNN's Wolf Blitzer: 'It Took Guts' For Newt Gingrich To Attack Ron Paul Over Newsletter
The reason for this, Manning explains, is that Gingrich's real name is "Newton Leroy McPherson."
"Now listen," Manning continued, "nobody on the planet names their children Leroy except black people. Just like nobody on the planet names their son Hector except Hispanic people."
As for Romney, "his name is Willard. Willaaaaard! I think that he's probably the son of a psycho." Willard, by the way, probably has "some black blood in him, too," according to Manning. Wealthy people's wives, you see, used to take long, boring train rides from Chicago to Los Angeles, he explained, and women like Mrs. Romney and Mrs. McPherson used to sleep with the train's black porters in order to help pass the time.
There are people in America who can verify this. "Put that in your pipe," he advises, "and smoke it for a while."
Readers, I am being very honest when I tell you I wish we could all smoke whatever this is right now. Because it seems nothing short of amazing.
Do have a look at his report:
h/t BuzzFeed
Have a tip we should know? tips@mediaite.com