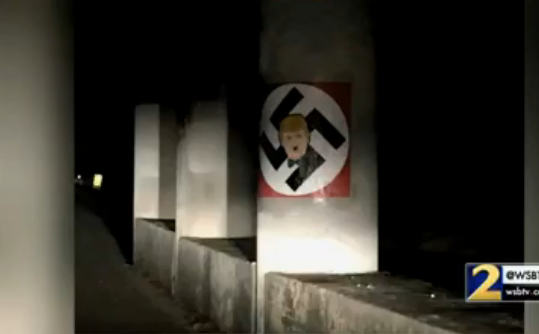 Police in Georgia opened an investigation Wednesday into the appearance of large swastikas with Donald Trump's face painted to look like Adolf Hitler, WSB-TV Atlanta reports.
Authorities say at least two posters bearing the symbol of Nazi Germany superimposed with a toothbrush-mustached Trump appeared overnight on a highway in Atlanta. Police spokesman Warren Pickard said officers removed the images and are searching for suspects involved in the incident.
The paintings come as Trump continues to make headlines for a proposal banning Muslims from entering the United States. Politicians and pundits of varying political affiliations floated similarities between Trump's suggestion and Nazi Germany;  Republican Christine Todd Whitman told CNN Tuesday that Trump is using the same "kind of rhetoric that allowed Hitler to move forward," and the front page of Tuesday's Philadelphia Daily News featured an image of Trump lifting his arm in a Nazi-like salute with the headline "The New Furor."
Meanwhile, American Neo-Nazi site the The Daily Stormer hailed Trump for his statement, posting an article entitled, "Glorious Leader Calls for Complete Ban on All Moslems."
This is hardly the first time Trump invited comparisons between himself and the notorious leader of the Third Reich. Last month, Republican rival John Kasich evoked Pastor Martin Niemoller's infamous "First They Came…" poem in an ad linking Trump to Nazi Germany. The NY Daily News also used a variation of Niemoller's poem Wednesday in reference to Trump; the paper featured the words next to a drawing of Trump beheading the Statue of Liberty.
Watch the video above, via WSB-TV Atlanta.
[Image via screengrab]
Have a tip we should know? tips@mediaite.com