Gabby Giffords Group Takes Aim At Republican Senators Mitch McConnell And Kelly Ayotte With New Ads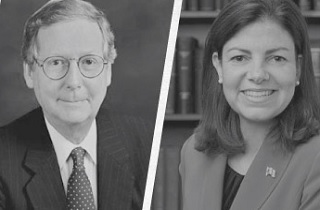 With nearly a week's distance from the U.S. Senate vote to defeat the Joe Manchin/Pat Toomey background check bill, and on the heels of polling that includes some attempt to measure the effect of that vote, former Congresswoman Gabby Giffords' Americans For Responsible Solutions has begun airing radio ads against two of the senators who voted against the compromise. Senate Minority Leader Mitch McConnell (R-KY), who led an unsuccessful bid to block the bill from even being debated, and Senator Kelly Ayotte (R-NH) are the targets of what Americans For Responsible Solutions calls its "Accountability Campaign":
On the heels of the Senate's failure to heed the will of the American people and pass common sense expanded background checks, Americans for Responsible Solutions (ARS) is holding two senators accountable for their vote.

ARS, founded by Gabby Giffords and Mark Kelly, will begin airing radio ads today in Kentucky and New Hampshire, highlighting Senator Mitch McConnell and Senator Kelly Ayotte's vote against this sensible solution to keeping our families safe from gun violence.

The ads highlight McConnell and Ayotte's putting loyalty to the special interest gun lobby in Washington instead of supporting wildly popular sensible policies that would keep their communities safer. In Kentucky, 82 percent of people support background checks; in New Hampshire, 89 percent of residents support them.
In the ad targeting Sen. Ayotte, entitled "Ignored," the group accuses the first-termer of "go(ing) Washington" by ignoring the 89% of New Hampshirites who support background checks:
The McConnell ad is much more dramatic, beginning with sound clips of news reports on the Newtown shooting, followed by a grave voice-over that says "We watched. We listened. We felt it. Newtown. But Senator McConnell won't listen to us."
The announcer goes on to reiterate the 82% support that background checks receive in Kentucky, and McConnell's vote against the bill. In a small favor to McConnell, the ad doesn't note that McConnell tried to block the measure from even being debated:
The ads come at a time when Sen. Ayotte is already taking on water over her vote against the background check bill, but doen't have to worry about reelection until 2016. Leader McConnell, on the other hand, faces reelection in the 2014 midterms, and although he has managed to stave off the Ashley Judd threat, is still deeply unpopular in his home state. A recent Public Policy Polling poll shows McConnell's approval/disapproval rating at 36%/54%, nearly identical to the 37%/55% he scored in December's poll. Even with those numbers, though, McConnell still isn't a lost cause in GOP-friendly Kentucky:
In hypothetical 2014 match-ups, McConnell leads Alison Lundergan Grimes by 4 points (45/41), Ben Chandler by 5 points (46/41) and Ed Marksberry by 11 points (46/35). Grimes and Chandler are both within the poll's margin of error. The biggest challenge for these candidates is consolidating the support of registered Democrats—24% of Democrats expressed support for McConnell in each of these contests.
Both of these states will be important ones to watch going forward, as a test case for the energy and influence that Giffords, and other gun reform advocates, can wield post-Newtown, and post-Manchin/Toomey.
Have a tip we should know? tips@mediaite.com