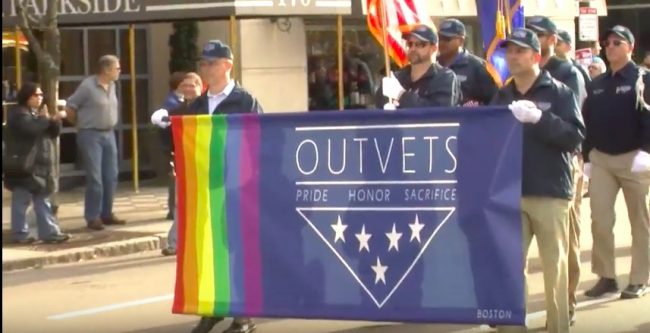 There's no doubt that the Boston St. Patrick's Day Parade is the most well-known of it's breed in the country. This year's parade is already off to a news-making start, and it is still weeks away.
Multiple news media outlets are reporting that the organizers of the event have reinstated a ban on gay veterans participating in the parade. The organization being strong-armed out of the festivities is OutVets, a group that honors LGBT veterans and active service members.
The Allied War Veterans Council of South Boston was behind the divisive decision, ruling 9-4 in favor of keeping OutVets from marching in the March 19th parade, even though they had been participants for the last two years.
Backlash has been swift and severe.
Boston Mayor Martin J. Walsh has said that he will boycott the parade unless the decision is reversed:
I will not tolerate discrimination in our city of any form. We are one Boston, which means we are a fully inclusive city. I will not be marching in the parade unless this is resolved. Anyone who values what our city stands for should do the same.
In a similar vein, two prominent corporate sponsors have also expressed their displeasure with the decision. Anheuser-Busch and nationwide grocer Stop & Shop have threatened to pull their sponsorship of the event. The Budweiser parent corporation said, "We are disappointed to learn that the OutVets, who have proudly served this country, have been denied entry." The statement continued, "We value equality and believe diversity enriches our workforce and our world … We are re-evaluating our participation in this event."
Stop & Shop had a similar reaction, "The men and women from OutVets, who have bravely served our country, deserve our respect and to be included." Phil Tracey, a spokesman for Stop & Shop, went on to pull sponsorship entirely,  "As a result of the organizer's decision, our South Boston store will no longer sponsor the parade.
An emergency meeting of the Allied War Veterans Council is being held on Friday regarding the issue at hand. One member of the council, though, is letting his feelings on the matter be known. Edward Flynn, a council member and City Council candidate, said that he hopes his "colleagues on the [veterans] council will correct this situation and join me in voting for inclusion. If this vote does not affirm their right to march in the parade, I will not be marching."
[image via screengrab]
——
Adam: Twitter.
Have a tip we should know? tips@mediaite.com