George Carlin Special From 9/10/01 — 'I Kinda Like It When a Lotta People Die' — to Finally Be Released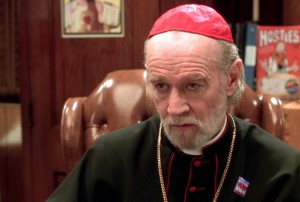 The late comic legend George Carlin shelved his own comedy special titled, I Kinda Like It When a Lotta People Die in the days following the special's recording. Despite Carlin's unapologetic brash sense of humor and observational wit, it's understandable why: the special was recorded on Monday, September 10, 2001.
And in one of the most head-shakingly incredibly examples of comedic prescience to date, Carlin jokes at one point in the stand-up special about a fart so powerful that it blows up an airplane:
"You know who gets blamed? Osama bin Laden."
At long last, that comedy special will be released today, nearly fifteen years to the day since it was first recorded. The comedian, who died in 2008, produced what the New York Times referred to as, "a polished hour of new jokes with a virtuosic centerpiece, [and] an intricate and elusive nearly 10-minute story that inspired its title."
In his 1999 special You Are All Diseased, Carlin took aim squarely at the silliness of airport security and the rigmarole of questions that security ask you at the airport. I will never forget being in school and downloading this special from Napster (yes, really), and listening over and over to one of my favorite jokes Carlin told about how to respond when an agent asks you, "Did you pack your bags yourself?":
No. Carrot Top packed my bags. He and Martha Stewart and Florence Henderson came over to the house last night, fixed me a lovely Lobster Newburg, gave me a full body massage with sacred oils from India, performed a four-way around the world and then they packed my bags.
OK just one more from You Are All Diseased (Keep in mind… this is TWO YEARS before 9/11, people). One of the questions from a security agent is "Has any unknown person asked you to take anything on board?" Carlin doesn't skip a beat with this wise ass wisecrack:
Well, what exactly is an unknown person? Surely, everyone is known to someone. In fact, just this morning, Kareem and Yusef Ali Ben Gabba seemed to know each other quite well. They kept joking about which one of my suitcases was the heaviest.
Carlin says at one point in I Kinda Like It When a Lotta People Die that he's "always rooting for a really high death toll," invoking natural disasters like earthquakes that "put up some really big numbers." The special is available today on Sirius XM, and will be for sale on CD/vinyl and Amazon/iTunes on September 16.
—
J.D. Durkin (@jiveDurkey) is an editorial producer and columnist at Mediaite.
[image via DOGMA (1999) screengrab]
Have a tip we should know? tips@mediaite.com