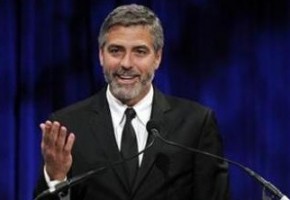 Not since Hurricane Katrina have we seen this sort of united support within the broadcast television community, and perhaps only now do we start to see the scale of this disaster. MTV has just announced plans for George Clooney to host a telethon next week to raise funds for victims of the earthquake in Haiti. Thus far reports include ABC, NBC, HBO and CNN to simulcast the event.

Leah Greenblatt reports for Entertainment Weekly:
On Friday, Jan. 22, George Clooney will host a live telethon to benefit earthquake victims in Haiti. Clooney's rep says the telethon is now set to air on all of the MTV channels worldwide, along with ABC, NBC, HBO and CNN. The show will air 8-10 p.m. ET.

Clooney first mentioned the event to Roger Friedman of The Hollywood Reporter last night at a private reception for his movie Up in the Air, and said that he has been reaching out to famous friends and performers to join in from both coasts.

His rep says Thursday night that the event's logistics are still being ironed out, including what organizations/charities will be involved and which musicians will perform.

Lists of 'How to Help Haiti' from various news orgs:
Haiti Earthquake: How You Can Help the Victims [ABC]
Haiti earthquake: How to help [MSNBC]
How To Help Haiti Earthquake Victims [MyFoxNY]
Haiti Disaster Relief: How to Contribute [NYT – The Lede]
Connecting to People Affected by the Quake [NYT – The Lede]
And outside the U.S., too:
Countries, aid agencies seeking to help Haiti [Canada.com]
Have a tip we should know? tips@mediaite.com