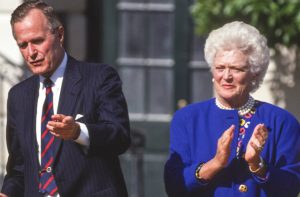 Early Tuesday afternoon, the office of former President George H.W. Bush's issued a statement about his hospitalization a few hours earlier. The former president, while stable, has been admitted to the intensive care unit. His wife, Barbara Bush (not to be confused with their granddaughter of the the same name), has also been hospitalized as a precautionary measure. Here's the full statement:
Shortly after our previous report on President Bush's condition, he was admitted to the ICU at Houston Methodist Hospital to address an acute respiratory problem stemming from pneumonia. Doctors performed a procedure to protect and clear his airway that required sedation. President Bush is stable and resting comfortably in the ICU, where he will remain for observation. Additionally, Mrs. Bush was admitted to the Houston Methodist Hospital this morning as a precaution after experiencing fatigue and coughing. We will provide additional updates as events warrant.
Update 1:34 p.m. ET: President Bush's letter to President Elect Donald Trump about why he won't be attending his inauguration Friday, written last week, was released publicly earlier in the day, and is now getting additional play in light of the news on his health. Specifically, Bush stating that "My doctor says if I sit outside in January, it likely will put me six feet under" is garnering significant attention:
Update 2:30 p.n. ET: CNN is reporting that subsequent to being put under sedation, President Bush was intubated and put on a ventilator:
UPDATE – Monday, January 30 1:42 p.m. EST: Bush's spokesman released a media statement confirming that the former president has been released from the hospital.
Former President @GeorgeHWBush was discharged from the hospital today after being treated for pneumonia, his spokesman says. pic.twitter.com/BTlKRc6se8

— TODAY (@TODAYshow) January 30, 2017
[Photo: Shutterstock]
Have a tip we should know? tips@mediaite.com