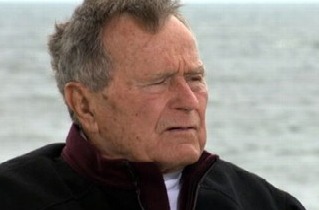 The New York Times is reporting that a new book reveals the very low esteem in which former President George H. W. Bush holds current President Donald Trump, breaking an unwritten code of conduct among former presidents, who despite political differences, rarely speak ill of one another.
Bush reportedly said of Mr. Trump in May of 2016, "I don't like him," adding "I don't know much about him, but I know he's a blowhard. And I'm not too excited about him being a leader." He also added that the current White House resident is driven more by "a certain ego" than by civil service. Son George W. Bush also gets in on the criticism, believing that Trump "fans public anger and came to office without any understanding of the job," according to the report.
Both comments are featured in a book titled The Last Republicans, in which author Mark K. Updegrove chronicles what is now considered the bygone era of the "GOP Establishment."
The book is described by its publisher Harper Collins as a work that "tracks the two Bush presidents from their formative years through their post-presidencies and the failed presidential candidacy of Jeb Bush, derailing the Bush presidential dynasty." The Harper Collins blurb also claims that Updegrove draws "extensively on exclusive access and interviews with both Bush presidents,
Updegrove reveals for the first time their influences and perspectives on each other's presidencies; their views on family, public service, and America's role in the world; and their unvarnished thoughts on Donald Trump, and the radical transformation of the Republican Party he now leads."
From the NY Times:
Neither of the two Republican former presidents voted for Mr. Trump — the father voted for Hillary Clinton and the son voted for "none of the above," as he told Mr. Updegrove.

Indeed, at one point during the 2016 presidential campaign, the younger Mr. Bush confided to the author, "I'm worried that I will be the last Republican president."

That inspired the title of the book — which will be published Nov. 14 by HarperCollins — as a quote that seemed to carry a double meaning.

"At the time, I think he was concerned that Hillary Clinton would win," Mr. Updegrove, the author of several books on the presidency, said in an interview. "But if you look at his values and those shared by his father and Ronald Reagan, they are very much in contrast to the values of the Republican Party today, in particular the platform that Donald Trump ran on, which is essentially protectionism and a certain xenophobia."
While there have been small political differences between former and current occupiers of the White House, it is exceptionally rare for a former president to ding a sitting president so forcefully. Though, it should be pointed out, we are now living in an era in which past accepted political etiquette has appeared to be completely thrown by the wayside.
Still, credit to Bush 41 for even his gentlemanly critique of "blowhard." It reminds one of that old joke of a more genteel time in which the most offensive thing one could say to someone was a forceful "good day!"…and if that didn't work, a follow-up of "I said, good day, sir!" As criticisms go, "blowhard" is pretty tame and uncontroversial.
Have a tip we should know? [email protected]