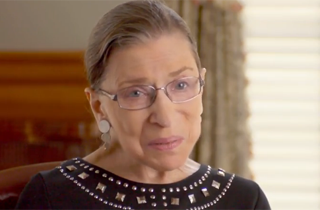 During a same-sex wedding ceremony this weekend, Justice Ruth Bader Ginsburg dropped a mysterious hint as to… something… involving the pending gay marriage cases recently argued before the Supreme Court.
Ginsburg was on hand to officiate the wedding ceremony of Michael Kahn and Charles Mitchem, at a fancy house on DC's embassy row, when she uttered the magical word. (Same-sex marriage has been recognized in the District of Columbia since 2009.)
As wedding attendee Maureen Dowd reported for the New York Times, emphasis ours:
But the most glittering moment for the crowd came during the ceremony. With a sly look and special emphasis on the word "Constitution," Justice Ginsburg said that she was pronouncing the two men married by the powers vested in her by the Constitution of the United States.

No one was sure if she was emphasizing her own beliefs or giving a hint to the outcome of the case the Supreme Court is considering whether to decide if same-sex marriage is constitutional.

But the guests began applauding loudly, delighted either way. Justice Ginsburg, who has officiated at same-sex weddings in the past, also seemed delighted, either by their reaction or, perhaps, by the news that she will be played in a movie by Natalie Portman (who, in a strange casting segue, will play Jackie Kennedy Onassis in another film).
During the recent oral arguments for Obergefell v. Hodges, the official name for the series of cases examining whether states can ban gay marriage under the Constitution, Ginsburg's line of questioning hinted at her views: namely, that the institution of marriage has changed throughout time, the Court's rulings on the matter has reflected those changes, and that the matter is a pure civil rights issue. The official decision has not been released yet, and will likely not be released until the very end of the session in June.
Nevertheless, given the Court's history of being notoriously leak-proof, especially when it comes to pending decisions, any wry look from RBG will immediately be scrutinized.
[Image via screenshot/Makers]
— —
>> Follow Tina Nguyen (@Tina_Nguyen) on Twitter
Have a tip we should know? tips@mediaite.com