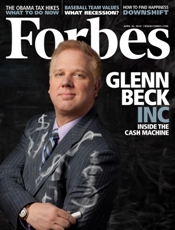 We know Glenn Beck is a huge radio and TV star, but do you know how big?
A Forbes profile and cover story by Lacey Rose breaks down the $32 million the Beck brand brought in last year.
Here's part of the profile:
With a deadpan, Beck insists that he is not political: "I could give a flying crap about the political process." Making money, on the other hand, is to be taken very seriously, and controversy is its own coinage. "We're an entertainment company," Beck says. He has managed to monetize virtually everything that comes out of his mouth. He gets $13 million a year from print (books plus the ten-issue-a-year magazine Fusion). Radio brings in $10 million. Digital (including a newsletter, the ad-supported Glennbeck.com and merchandise) pulls in $4 million. Speaking and events are good for $3 million and television for $2 million. Over several days in mid-March Beck allowed a reporter to follow him through his multimedia incarnations, with one exception, his 5 p.m. daily show on Fox News, which attracts just under 3 million viewers.
That's right, the famous TV show is just revenue stream #5 for Beck. The whole profile is well worth the read (Rose gets access not normally seen from the notoriously closed-off Beck), but this is a bigger breakdown of where that $32 million comes from:
Publishing: $13 million
Includes profit participation with Simon & Schuster, which sold 3.5 million copies of his books, and Fusion Magazine.

Radio: $10 million
Includes five-year, $50 million participation deal with Premiere Radio Networks.

Digital: $4 million
Includes an ad-supported Web site and newsletter, plus Insider and Insider Extreme services and merchandise.

Events: $3 million
Includes tours, performances and various speaking engagements.

Television: $2 million
A three-year contract with Fox News.
Also, what a great cover shot – Beck, using his now-famous chalk, to draw dollar symbols all over his suit. He's clearly enjoying himself.
—–
» Follow Steve Krakauer on Twitter
Have a tip we should know? [email protected]
---