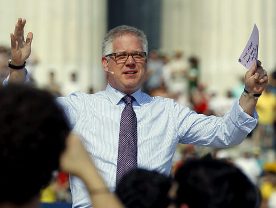 Midway through Glenn Beck's "Restoring Honor" rally Saturday I walked in the press area over to the front of the crowd and asked one woman how she was able to get so close. She got to her location on Thursday at 1pm. Was she enjoying herself, I asked her.
She nodded slowly, in exaggerated sincerity. But then her tone changed – it was no longer about her, already a true believer, a fan. "Are you?" she asked me. "Are you learning something?" That was the event in a nutshell.
People who predicted a low turn out for the rally were proven wrong – as were people who predicted it would be a political event. Instead, this became a religious experience, an enormous revival that asked important, broad questions and answered simply with: Jesus Christ. (Here are two great takes on the 8/28 rally, from a conservative and a religion expert.)
Beck admits what this became, in characteristic peek-behind-the-curtain honesty. "I thought it was supposed to be political," he remembered when he initially announced the event back in November. But he said he quickly changed his mind. "I don't know how, but we're wrong," said Beck, instead focusing on what this has become – about faith, hope and charity.
Even Sarah Palin's presence didn't change that theme, as Beck announced she was "asked to speak as a mother of a soldier, not as a politician." (And she did, briefly but passionately.) But it was through this lens, faith over policy, that Beck's event starred Jesus Christ and not Pres. Barack Obama. More than once, Beck himself said "God is the answer." Some times the religious undertones were subtle ("I testify to you here and now, one man can change the world") while other times they were more blatant ("It is my joy and my honor to tithe 10%").
And it went beyond Beck. Each of the medal recipients (one each for faith, honor and charity) spoke about Jesus. Pastor C.L. Jackson, who saw Martin Luther King, Jr. speak 47 years before, said "we have to be covenant warriors of Christ." Albert Pujols, MLB all-star who "found Jesus" 12 years ago, said, "My job as a baseball player is to share the gospel of Jesus Christ." Billionaire Jon M. Huntsman, who was not in attendance, had his representative say he "brings greeting in the name of the lord and savior Jesus Christ."
Those who were convinced Beck would stoke fears were sadly let down. The Fox News host said, "We must get the poison of hatred out of us…We must look to love." Also, "Our churches, our synagogues, our mosques, we must stand for the things that are true." Meanwhile the Native American leader who introduced Pastor Jackson spoke idealistically about people who are "able to keep peace and not start wars."
When it wasn't directly religious, it was instead inspirational platitudes. "To restore honor we must restore ourselves," said one Beck video voiceover. "We as individuals must be good so America can be great."
That's not to say the crowd was full of Democrats. Beck noted at one point that one of the speakers was a Democrats "who organized for Obama" as if it was so shocking such a thing would occur. And of course the breakdown among race was quite obviously almost universally white. That doesn't mean it was full of racists – Alveda King probably got the loudest ovation – but it's just a fact.
It's not clear what Glenn Beck wants to be. Clearly, he is a multi-platform star who is on the precipice of something. Who else could bring out 200,000+ individuals to the steps of the Lincoln Memorial to talk about history, and honor and Jesus? Very few people in the public sphere. Maybe there's one thing everyone can agree on, even Beck's detractors. Several times Beck made the Moses analogy, commanding the audience to "pick up your stick." At one point as we watched Beck's speech, and the emotional crowd response, and he urged the crowd again to "pick up your stick," Glynnis MacNicol turned to me and said, "that's going to be a T-shirt."
And the Beck machine rolls along…
—–
» Follow Steve Krakauer on Twitter
Have a tip we should know? tips@mediaite.com