'Golden Girls' Are Latest Celebs to Get Coveted Collectible Funko Pop! Dolls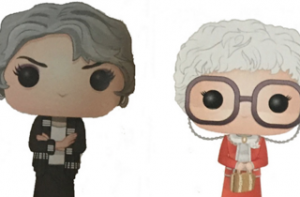 Are you familiar with Funko's line of Pop! dolls? If not, congrats! You're not a geek! (Just kidding. I'm allowed to say that. I have Pop! figurines displayed prominently in my apartment.)
The collectables are made of vinyl, known for their large heads and cartoonish cuteness, and generally come in sets based on popular movies, television shows, and comic books. There are even Pop! figurines for certain NBA players.
Now, blessedly, there are also figurines for the Golden Girls! Yes, Blanche, Rose, Sophia, and Dorothy are all deservedly getting their own special Pop! dolls. Blanche's doll takes the biggest turn from the standard Pop! look because it has a mouth, but the rest of them fit right in with the rest of the collectors' items. Sophia's doll, from the photo available, appears to deviate from the conventional size of 3.75 inches, too, though it may be a trick of the page on which the original photo was printed.
Funko seems to have let renowned collector Ryan drop the announcement to his 17,900 followers on Instagram.
These things usually retail for about $9 but the Golden Girls Pop! dolls are pre-ordering at around $11, so hurry up and get your money ready. You're going to need to move quickly. When I worked at Barnes & Noble, I saw these things fly off the shelves for franchises way less beloved (and politically polarizing) than The Golden Girls.
h/t BUST 
[image via screengrab]
For more from Lindsey, follow her on Twitter.
Have a tip we should know? tips@mediaite.com