Google To Rick Santorum: We Won't Take Down Unsavory Search Results For Your Name
Google To Rick Santorum: We Won't Take Down Your Unsavory Search Results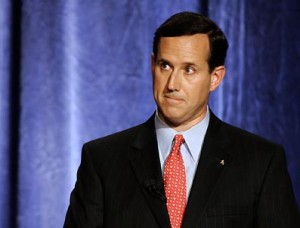 GOP presidential hopeful Rick Santorum has, for a while now, had to contend with a rather unique PR problem: Dealing with columnist Dan Savage's overwhelmingly successful campaign to introduce a new, rather descriptive and very sexual meaning for his last name. The definition, which deals with a particularly messy side effect of partaking in anal sex, was established by Savage, long an outspoken gay rights activists, in response to Santorum's stance and highly-publicized comments on homosexuality in general and same-sex marriage in particular.
Santorum recently tried to get Google to do away with the "double meaning" in its internet search results. Unfortunately for Santorum, Google responded to his request with a resounding "Nope," and the alternate definition remains the top search result for both "santorum" and "Rick Santorum."
Santorum, for one, believes there's a double standard at play in Google's decision, and told Politico as much:
I suspect if something was up there like that about Joe Biden, they'd get rid of it. If you're a responsible business, you don't let things like that happen in your business that have an impact on the country.
However, Google maintains that it is not in the business of removing or censoring search results with the exception of "very limited cases such as illegal content and violations of our webmaster guidelines." The company went on to point out that Santorum's does have another option: Contacting each site where the sexual definition of santorum is used and asking their individual webmasters to remove the offending word.
h/t Politico
Have a tip we should know? tips@mediaite.com