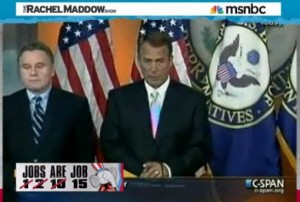 As gathering outrage over the "forcible rape" language in a proposed anti-abortion law crested with a piece of devastating satire on Wednesday night's The Daily Show, Politico reports that the phrase has been stricken from the bill. The law seeks to restrict the use of taxpayer funds for abortions, and although they have restored the exemption for "rape and incest" that's found in the longstanding Hyde Amendment, the bill still seeks to punish abortion coverage in private health insurance plans.
From Politico:
But a spokesman for the bill's author, Rep. Chris Smith (R-N.J.), says the modifier "forcible" will be dropped so that the exemption covers all forms of rape, as well as cases of incest and the endangerment of the life of the mother.

"The word forcible will be replaced with the original language from the Hyde Amendment," Smith spokesman Jeff Sagnip told POLITICO, referring to the long-standing ban on direct use of taxpayer dollars for abortion services.

The fight over the definition of rape threatened to sabotage Republican efforts to highlight their push to end taxpayer subsidies for abortion, and the distinction between types of rape mystified some GOP aides.
"Such a removal would be a good idea, since last I checked, rape by definition is non-consensual," said one aide.
It's only "mystifying" if you're unfamiliar with the contemptuous attitude that many abortion opponents, Republican or Democrat, display toward women who seek to preserve that right to choose. This bill was introduced by Rep. Chris Smith (R-NJ), and co-sponsored by 163 Republicans and 10 Democrats who seem to believe that, absent this "forcible rape" language, women will just go around "crying rape," a popular myth in American rape culture.
The phrase may be gone, but the contempt is still there, as evidenced by this section:
SEC. 303. PROHIBITION ON TAX BENEFITS RELATING TO ABORTION.

For taxable years beginning after the date of the enactment of this section

(1) no credit shall be allowed under the internal revenue laws with respect to amounts paid or incurred for an abortion or with respect to amounts paid or incurred for a health benefits plan (including premium assistance) that includes coverage of abortion,CommentsClose CommentsPermalink

(2) for purposes of determining any deduction for expenses paid for medical care of the taxpayer or the taxpayer's spouse or dependents, amounts paid or incurred for an abortion or for a health benefits plan that includes coverage of abortion shall not be taken into account, and

(3) in the case of any tax-preferred trust or account the purpose of which is to pay medical expenses of the account beneficiary, any amount paid or distributed from such an account for an abortion shall be included in the gross income of such beneficiary.
That means anyone who has an insurance plan that covers abortions, even a single man who will never have an abortion, will be denied any health care related tax benefits. That would even apply to dudes who work for the RNC, whose health plan covers elective abortions.
This provision will render any private insurance plan that covers abortion poisonous to its customers, particularly group plans. It is possible that health insurance companies could design parallel products that do cover abortion, but the provision is so broad that it's unclear if that would even pass muster. It's much more likely that private insurers would drop abortion coverage completely.
Whether you agree with abortion rights or not, this is a clear contravention of the law of the land. The "forcible rape" red herring may have been disposed of, but there's still plenty of rotten in this pile of fish.
Have a tip we should know? tips@mediaite.com