Kenneth Cole's Cairo Tweet Ignites The Internet's Righteous Indignation, Inspires New Trend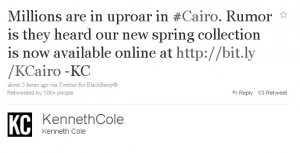 Earlier today, designer Kenneth Cole thought that he'd do as all good marketers do and capitalize on a topical discussion point in order to bring attention to his brand. However, Cole's attempt to somehow tie the recent uprising in Egypt to to the fact that his spring collection is now available online did not go over terribly well. Remember, KC: Never underestimate the righteous indignation of the Tweeting community. (Our sister site, Styleite, also reported on the faux pas.)
Update: Cole has issued a new Tweet saying he had deleted his original joke about Cairo (although, at the time we updated his post, the original still appeared in his feed) and linking his Twitter followers to a formal apology on his Facebook page:
"I have removed this morning's tweet. Please visit this link to see my apology. http://on.fb.me/fCSf5Z -KC"
The Facebook apology (which prompted responses like "You are an asshole!" and, somewhat curiously, "bastar-d.") is as follows:
I apologize to everyone who was offended by my insensitive tweet about the situation in Egypt. I've dedicated my life to raising awareness about serious social issues, and in hindsight my attempt at humor regarding a nation liberating themselves against oppression was poorly timed and absolutely inappropriate.

Kenneth Cole, Chairman and Chief Creative Officer
—
This morning, Cole Tweeted that "Millions are in uproar in #Cairo. Rumor is they heard our new spring collection is now available online" at his website.
The response was nearly immediate and overwhelmingly negative. TechCrunch founder Michael Arrington, for instance, asked "WTF is wrong with you, @kennethcole?" And Business Insider's Henry Blodget asked whether the "idiot" behind the Tweet had been fired yet. (Turns out – according to Cole's own Twitter bio – that he wrote the Tweet himself, given that he initialed it "KC." Awkward.)
Cole later issued an explanation of sorts, also via Twitter:
Re Egypt tweet: we weren't intending to make light of a serious situation. We understand the sensitivity of this historic moment -KC
The silver lining, of course, is that Cole's PR gaffe has inspired a new meme of sorts: #kennethcoletweets follows mildly to wildly insensitive uses of current events and disasters to sell clothing. (An example Tweet via Fox's @AndyLevy: "Looking to save some money on great fashion? Come to our fire sale in Dresden!") And then there's @KennethColePR, a Twitter account devoted to coming up with brand new slogans for the brand. Location? "A disaster near you."
Have a tip we should know? tips@mediaite.com