GOP Governor Who Couldn't 'Find One' Latino To Hire In Pennsylvania Already Had One On Staff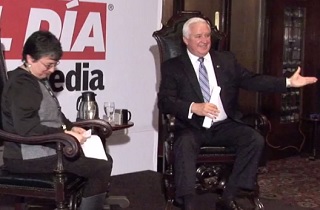 The liberal media can be so very, very unfair to Republicans. In remarks being widely publicized this week, Pennsylvania Governor Tom Corbett (R-Not That Tom Corbett) responded to a question about whether he had any Latinos on his staff by replying "No, we do not have any staff members in there. If you can find us one, please let me know."
Predictably, the likes of MSNBC's Rev. Al Sharpton tried to use this to malign GOP minority outreach, but it turns out Corbett does have one Latina staffer. So there.
Gov. Corbett, who last month said that part of Pennsylvania's unemployment problem is that area employers "can't find anybody that has passed a drug test," made his remark at a Philadelphia Union League roundtable last Friday. Moderator Sabrina Vouroulias, Managing Editor of Philadelphia's Al Dia, asked Corbett "Do you have staff members that are Latino?"
"No, we do not have any staff members in there," Corbett replied. "If you can find us one, please let me know."
"I am sure that there are Latinos that…" Vouroulias began.
Corbett turned to the crowd, and asked "Do any of you want to come to Harrisburg?" and, to laughter from the crowd, exclaimed "See?"
The clip was featured on liberal website ThinkProgress on Wednesday, and has been gaining steam on blogs ever since. Corbett's remarks come in the closing seconds of this clip, from Al Dia:
ThinkProgress' posting of the Al Dia clip prompted the Governor's office to go into "You're not from around here" mode, with Corbett press secretary Kevin Harley calling it "just another attempt by a liberal blog in Washington, D.C., to malign the governor."
On Thursday, Corbett also fired back:
"We are in the political season obviously," Corbett said after an appearance in Hershey. "There are candidates out there on the Democratic side [and] there are liberal organizations coming out of Washington that want to have an impact on the governor's race here in Pennsylvania."

He argued that the attempt by rivals to paint him as being insensitive to the state's Latino population runs counter to his record. And he pointed to a failed 2012 nomination to the Liquor Control Board as an example.

"I nominated Ken Trujillo, a well-known Latino Hispanic from Philadelphia, a Democrat for the LCB," Corbett said. "The Democrats rejected him. Why aren't you writing about that?"
Good point. According to Philly.com, Trujillo's nomination to the state's Liquor Control Board ran into trouble because Democrats worried that it would be the last nail in Corbett's attempt to privatize Pennsylvania's liquor industry, a proposal whose public support has dropped significantly.
So, what's worse than being asked if you have any Latino staff members and replying that you can't find any Latinos to hire? Maybe being asked if you have any Latino staff members, and forgetting that you do. Philly Magazine's Simon van Zuylen-Wood reported this yesterday:
Calm down lefty media hyperventilators! After you all jumped down Tom Corbett's throat for his comment about having no Latino staff members, the Governor's people put out a press release smack-down, pointing out that in fact they've actually got ONE Latino staffer, Maria Montero, the Director of the Governor's Advisory Commission on Latino Affairs.

I would have published this sooner, but I was waiting from a response from Corbett's people confirming that there's really no one else. In fairness, the administration also used to employ preternaturally grumpy Eli Aliva as Secretary of Health and nominated Ken Trujillo for Commissioner of the PLCB.
See, liberal left loons? Governor Corbett's Director of Latino Affairs is Latina, which his office totally remembered days later, so SHUT UP!
At this rate, it should be no time at all before the GOP sheds its reputation as a party that thinks "diversity" is a great place to buy SCUBA gear.
Have a tip we should know? tips@mediaite.com