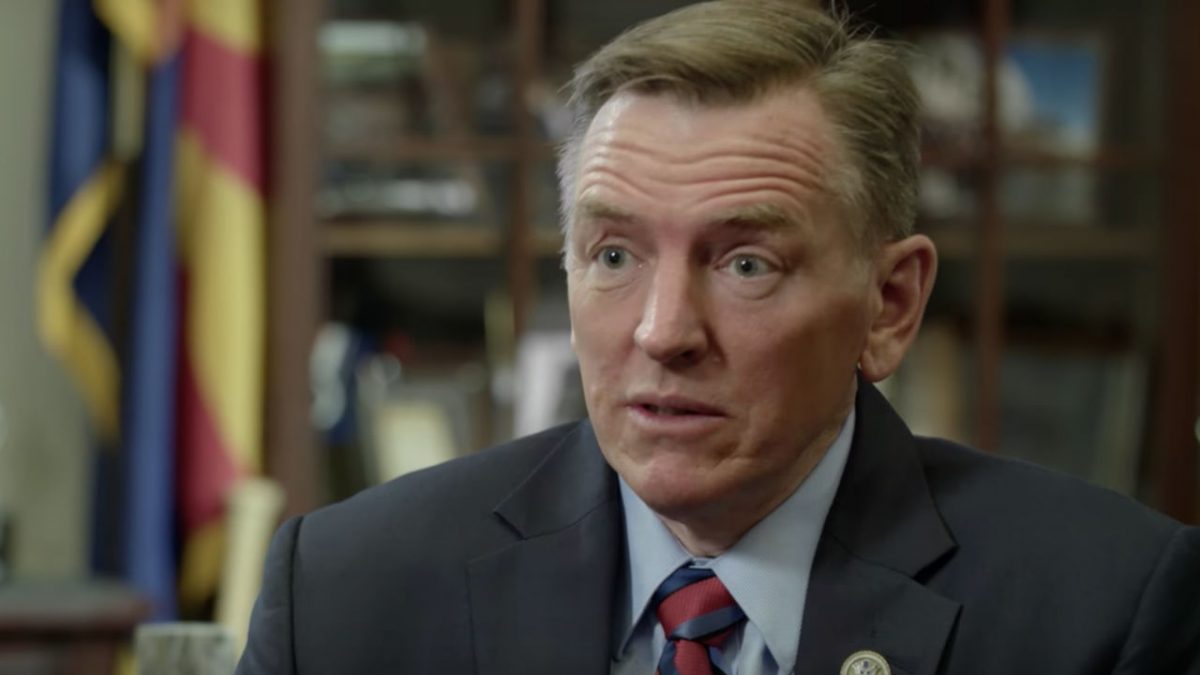 Rep. Paul Gosar (R-AZ) referred to a Democratic critic on Twitter as a "porn loving whiny bitch" but eventually deleted the insult.
"Steve is ignorant of history and a liar," Gosar tweeted last night in response to Steve Weichert, a former candidate for an Arizona state senate seat, calling the lawmaker a "pig."
"He says 'We need more bipartisanship — in the State Capitol and in Washington — if we're going to solve the very real challenges we face' then calls me a 'pig,'" he added. "What a little bitch."
In a subsequent tweet fired off today, which was also deleted, Gosar wrote, "Porn loving whiny bitch (Weichert) schooled here. Boom." (The "porn loving" comment is a reference to a past incident in which Weichert's Twitter account released a stream of pornographic content. Weichert says he was hacked.)
The angry response came after Weichert ripped Gosar's proposal to declare the birthday of labor activist Cesar Chavez "National Border Control Day."
This man is a pig and unworthy of the office he now holds. Gosar calls for Cesar Chavez's birthday to be 'National Border Control Day' https://t.co/nJlMCf4BQl via @azcentral

— Steve Weichert (@SteveWeichert) March 30, 2019
Weichert responded to Gosar's insult by suggesting the outburst proves his point about the lawmaker being unfit to serve.
So, here's what I woke up to this morning – yet another personal attack from our elected US Rep, @RepGosar. I'm not sure whether to be flattered for the individual attention or horrified. (He's now thought better of this tweet and deleted it. Thankfully, I capture every mention.) pic.twitter.com/JOVUrFKJ0v

— Steve Weichert (@SteveWeichert) April 4, 2019
The five-term congressman has a history of controversies. After the deadly Charlottesville white supremacist rally, Gosar claimed it was staged by an "Obama sympathizer." He has also promoted conspiracy theories, which are popular among antisemites, about Jewish billionaire and liberal activist George Soros.
Gosar became a punchline of the 2018 midterm election after six of his siblings released an ad urging voters to cast their vote for their brother's rival.
He is also in the news this week after Sludge revealed Gosar did not disclose to Congress a meeting with Steve Bannon and far-right European leaders during a trip to the U.K. funded by an anti-Muslim nonprofit group.
[image via screengrab]
Have a tip we should know? tips@mediaite.com