GOP vs. GOP: Idaho Congressman Takes Aim At Fellow Republican For Voting Against Boehner
GOP vs. GOP: Rep. Takes Aim At Fellow Republican For Voting Against Boehner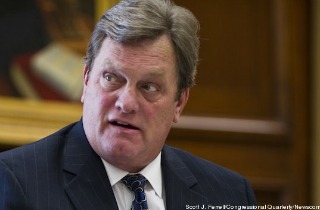 Earlier this month, Speaker John Boehner was re-elected to his post in the House Of Representatives, but not without some opposition from his fellow Republicans. Now, Idaho Representative Mike Simpson is taking issue with fellow Congressmen who voted against Boehner, calling the decision to undermine the Speaker "iresponsible."
Simpson is specifically taking aim at fellow Idaho Representative Raul Labrador (R-ID). Labrador publicly made his disapproval of Boehner clear, when he did not vote at the meeting to re-elect him.
"He just didn't vote," Simpson said. "Which, as anyone who's ever been in a legislative body will tell you, you got one thing going for you and that's your credibility. And once you lose that credibility it's gone and it's gone forever."
RELATED: Bob Woodward: Tea Party Speaker Of The House Would 'Just Lay Down And…Let The Country Burn'
According to Simpson, the private disapproval of Boehner could have been expected, but voting publicly against him meant feuding with the party at large.
"And that's the way it's supposed to work, that's what it means to be in the governing majority," Simpson said. "To try to undermine that with 25 or 30 of your colleagues to overrun the will of what the majority of our conference voted for is, frankly, irresponsible."
Labrador told the Idaho Statesman that Simpson was a "bully." He also expressed that he was disappointed in Simpson for publicly airing the issues.
"I think it's really unfortunate that I have to talk to you about this, because I really wanted to talk to Boehner first," he said.
Labrador was among several Republicans displeased with Boehner's vote for the fiscal cliff deal and together, they planned to oust him. However, when they realized they didn't have enough votes, they called off the plan. Labrador said that although he knew it wouldn't be successful, he felt that he "needed to be true" to himself.
Labrador is still hopeful for Boehner's second run. He said he believes the Speaker "wants to come out stronger from this not by punishing, but by learning."
h/t Idaho Statesman
Have a tip we should know? tips@mediaite.com