Gov. Bobby Jindal: Aside From Principles, GOP 'Might Need To Change Just About Everything'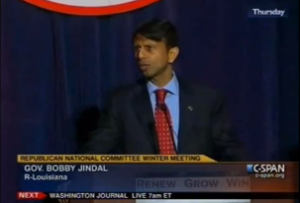 Louisiana Gov. Bobby Jindal hasn't been shy about criticizing his own party in the wake of the presidential election. On Thursday, hammered home his message during the keynote speech at the Republican National Committee's winter meeting: "We must stop being the stupid party."
RELATED: GOP Gov. Bobby Jindal: Republicans Need To 'Stop Insulting The Intelligence Of The Voters'
"America is not the federal government," Jindal asserted, arguing that Republicans must realize that number-crunching is not everything. "We must not become the party of austerity. We must become the party of growth. Of course we know that government is out of control. The public knows that too. And yet we just lost an election."
As he has in the past, Jindal also took a not-so-veiled jab at Mitt Romney, saying the GOP must compete for every vote — "the 47 percent and the 53 percent." Along the same lines, making a widely-echoed criticism, Jindal also pointed to the need to address demographics. Enough with the nostalgia, and let's look to the future.
Jindal was particularly blunt in reiterating that the GOP must stop being "stupid" and "stop insulting the intelligence of voters." The party needs to "stop reducing everything to mindless slogans and tag lines for 30-second ads" and start explaining detailed views, he advised.
"We are not the party of big business, big banks, big Wall Street bailouts, big corporate loopholes, or big anything," he asserted. "We are a populist party and need to make that clear."
"No, the Republican Party does not need to change our principles," Jindal said — "but we might need to change just about everything else we do."
If any of these quotes sound familiar, it's because Jindal's been on quite a roll with the political introspection (which surely has nothing to do with any potential presidential/national aspirations). In the past few months, he's criticized Romney's "gifts" remark as well as offered his party some advice.
Watch the speech below:

Have a tip we should know? tips@mediaite.com