Gowdy Dismisses GOPer's Hillary-Benghazi Comment: He Doesn't Know What We're Doing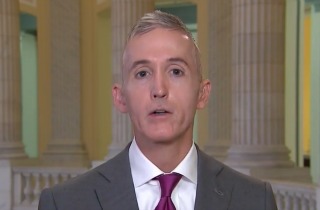 Benghazi committee chairman Trey Gowdy released a statement today in reaction to Republican congressman Richard Hanna's comments about the committee.
Hanna said on the radio this week, "This may not be politically correct, but I think there was a big part of this investigation that was designed to go after people, an individual, Hillary Clinton."
That comment is, of course, coming on the heels of Kevin McCarthy's comments tying Benghazi to Clinton's poll numbers.
Well, Gowdy––who ripped into McCarthy for what he said––issued a statement today basically saying Hanna doesn't know what he's talking about.
Here's the statement in full:
There are seven members of the Benghazi Committee who are intimately familiar with the work of the committee, the motives behind the work, and the results of that work. Congressman Hanna is not one of them. The Members of the committee do not discuss its work in Conference, and Mr. Hanna has never asked for a briefing by the committee staff.

Recently, Mr. Hanna and I talked informally about the committee and he raised neither questions with the scope or the approach of the committee. I called Mr. Hanna this morning to find out if he had any concerns since our last conversation and offered him some insights to the committee's work. Among other things I noted is the fact the Committee recently received emails from Ambassador Chris Stevens, but I also highlighted the fact that we have not rushed out to talk about them, but are instead evaluating them in the serious, fact-centric way evidence should be handled.

Running investigations in a private, fact-centric way is unquestionably the right way to conduct a serious investigation. The pitfall, of course, is that commentators, and sometimes even Members of your own Conference, offer thoughts on matters on which they are not familiar.

My team of investigators, drawn from the military, federal agencies and the congressional oversight and ethics committees, has worked hard, and in an above-board manner. It is unfortunate when claims are made by those who do not know what the committee has done, why it has done it, or the results of its work. We made a promise to the families about the integrity of this investigation, and no one on the majority side has forgotten it.
[image via screengrab]
— —
Follow Josh Feldman on Twitter: @feldmaniac
Have a tip we should know? tips@mediaite.com
Josh Feldman - Senior Editor