Gretchen Carlson: But America Doesn't Want To 'Absorb' Another Terrorist Attack!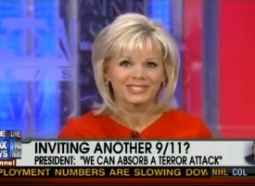 Bob Woodward has written a new book, this one about the Obama administration. The New York Times, scooping everyone including Woodward's longtime paper the Washington Post, got a copy of it yesterday and published excerpts in this morning's paper, many of which have been dominating today's newscycle.
As is his wont, Woodward spoke to just about everyone for the book and was the recipient (as is his wont) of plenty of juicy details. From Mike Allen:
'He sequences his interviews in a way that he can impress the higher-ups with what he knows already. Then it's harder not to talk.' … Instead of thinking, 'I'm talking to Bob Woodward: I'd better be careful,' sources tend to think, 'I'm talking to Bob Woodward. I'd better tell him something good.' This effect is said to be especially vivid when he invites sources into his Georgetown dining room."
Ah the old dining room trick! Anyway, the excerpts that are making the most waves are the ones about Afghanistan, President Obama's dealings with the military, and his inner circle. Suffice to say, had this book been released a few months ago Gen. Stanley McChrystal might not have had so much to worry about. From the Times:
Mr. Biden called Mr. Holbrooke "the most egotistical bastard I've ever met," although he "may be the right guy for the job." A variety of administration officials expressed scorn for James L. Jones, the retired Marine general who is national security adviser, while he referred to some of the president's other aides as "the water bugs" or "the Politburo."

Adm. Mike Mullen, chairman of the Joint Chiefs of Staff, thought his vice chairman, Gen. James E. Cartwright, went behind his back, while General Cartwright dismissed Admiral Mullen because he wasn't a war fighter. Defense Secretary Robert M. Gates worried that General Jones would be succeeded by his deputy, Thomas E. Donilon, who would be a "disaster."
The quote that's getting Obama the most attention, however, is this:
Woodward's book portrays Obama and the White House as barraged by warnings about the threat of terrorist attacks on U.S. soil and confronted with the difficulty in preventing them. During an interview with Woodward in July, the president said, "We can absorb a terrorist attack. We'll do everything we can to prevent it, but even a 9/11, even the biggest attack ever … we absorbed it and we are stronger."
Taken in that context (and to be sure that context in itself is merely an excerpt) it sounds like the President is saying that the country could survive another big terrorist attack if it had to. Perhaps needless to say Fox & Friends this morning did not see the quote quite this way, instead they seemed worried Obama is inviting a terrorist attack. Said Gretchen Carlson:
"I'm not sure that any American would want to absorb one little, tiny terrorist attack in any community across this country, because, obviously, that would mean that people would die. So I don't think that anyone would want to have that opinion about absorbing a terrorist attack."
I'm pretty sure Gretchen is right! Terrorist attacks are bad. Watch below.
Have a tip we should know? tips@mediaite.com