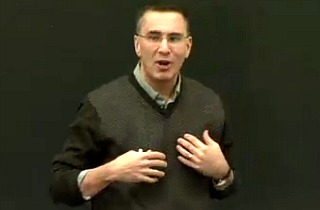 And so "GruberGate" continues.
On Tuesday morning, MIT professor Jonathan Gruber testified before the House Oversight Committee, offering contrition for his "glib," "insulting" remarks about Obamacare's formation while firmly denying his role as an "architect" of the bill.
On Wednesday afternoon, however, video emerged of Gruber telling a 2010 lecture audience that he helped write the legislation.
Describing the Affordable Care Act as "the single most important piece of government legislation perhaps since World War II," Gruber told his MIT undergraduate economics students:
Full disclaimer: I'm going to describe it objectively, but I helped write it. So I'll be objective –- I'll try to be objective -– but just full disclaimer: I was involved in writing the legislation, so there is some bias involved here.
During his prepared remarks yesterday on Capitol Hill, however, Gruber declared: "I did not draft Governor Romney's health care plan, and I was not the 'architect' of President Obama's health care plan." Instead, he said, "I ran microsimulation models to help those in the state and federal executive and legislative branches better assess the likely outcomes of various possible policy choices."
As The Hill notes, this denial clashes with Gruber's official bio and history of being introduced the past few years as a legislative "architect" in speeches and TV interviews.
Watch the MIT lecture snippet below:
And watch Gruber's prepared remarks from Tuesday below, via C-SPAN 3:
— —
>> Follow Andrew Kirell (@AndrewKirell) on Twitter
Have a tip we should know? tips@mediaite.com