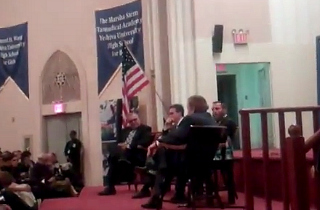 During an appearance at Yeshiva University in New York on Tuesday, casino tycoon and prominent political donor Sheldon Adelson suggested dropping a nuclear bomb on an unpopulated segment of Iran as a means of warning the adversarial country against nuclear proliferation.
The exchange was captured by Mondoweiss' Philip Weiss.
"What are we going to negotiate about?" Adelson said in response to whether he would recommend negotiating with Iran if the country agreed to roll back its nuclear program.
"I would say: 'Listen, you see that desert out there, I want to show you something.' …You pick up your cell phone and you call somewhere in Nebraska and you say, 'Okay, let it go.' And so there's an atomic weapon, goes over ballistic missiles, the middle of the desert, that doesn't hurt a soul. Maybe a couple of rattlesnakes, and scorpions, or whatever. Then you say, 'See! The next one is in the middle of Tehran. So, we mean business. You want to be wiped out? Go ahead and take a tough position and continue with your nuclear development. You want to be peaceful? Just reverse it all, and we will guarantee you that you can have a nuclear power plant for electricity purposes, energy purposes.'"
The audience cheered Adelson's stance, along with his criticism of the current Iranian policy as a "demonstration of weakness."
Adelson is a vocal supporter of Israel, and donated almost $100 million to political campaigns in the 2012 cycle, including a large amount to GOP primary candidate Newt Gingrich.
During the Q&A, Adelson also suggested that President Franklin Delano Roosevelt might have stopped or mollified the Holocaust with a more interventionist foreign policy. "He could have prevented the Holocaust," Adelson said. "If not prevented the Holocaust, he could have at least significantly reduced the severity of it."
Watch the full clip below, via Philip Weiss:
[h/t Mondoweiss]
[Image via screengrab]
——
>> Follow Evan McMurry (@evanmcmurry) on Twitter
Have a tip we should know? tips@mediaite.com