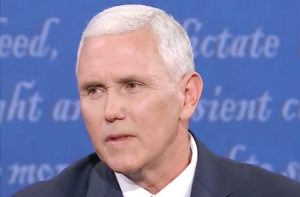 I thought going to a play or musical was about being "entertained," not suffering through a political lecture. Not so. Members of the Broadway musical Hamilton decided to hector and lecture Vice-President elect Mike Pence as a racist. Something that I'm quite sure people didn't pay over $800 a ticket to see.
Pence, who was attending the play with his daughter and her cousins, was the object of a disgusting rant by Brandon Dixon, the black actor who plays Aaron Burr.
Rather than bowing in a customary curtain call to thank the audience for paying exorbitant ticket prices to fund their salaries, Dixon verbally lynched America's white VP-elect:
"We, sir, we are the diverse America who are alarmed and anxious that your new administration will not protect us, our planet, our children, our parents or defend us and uphold our inalienable rights, sir. But we truly hope this show has inspired you to uphold our American values and work on behalf of all of us."
For starters, I say, Dixon, from one black person to another, "Shut up, act and bow." You don't represent or speak for me or the other black people, and "diverse America" who elected Donald J. Trump President.
Not only was this disrespectful and inappropriate behavior to exhibit to the Vice President-elect, but also to other audience members who came to enjoy a musical, not be subjected to sophomoric politicking.
Talk about safe spaces gone to Hell! Even President-elect Trump agreed, tweeting:
"The Theater must always be a safe and special place. The cast of Hamilton was very rude last night to a very good man, Mike Pence. Apologize!"
In very predicable fashion, the liberal media blamed Trump for "scolding" the multi-cultural cast for their disgusting harassment of Pence. You see, in the age of black President Barack Obama, liberals have grown accustomed to allowing and applauding black men calling white men racist without probable cause.
But apologize Dixon won't. The actor doubled down in his profound idiocy.
"It was a message from the producers, the creative [team] and the cast. If you have differences, say something! What better place than on this stage telling this story with these people? I hope he thinks of us every time he has to deal with an issue or talk about a bill or present anything."
The only thing Pence and his boss Trump will think about when he remembers this incident is that Dixon called him a bigot. Nevertheless, appearing on Fox News Sunday, Pence said:
"When we arrived, we heard a few boos, and we heard some cheers, and I nudged my kids and reminded them: That's what freedom sounds like.

"But, I do want to say that the basic element is the center of that message is one that I want to address, and that is I know this is a very disappointing time for people that did not see their candidate win in this national election… And, I just want to reassure people that what President-Elect Donald Trump said on election night, he absolutely meant from the bottom of his heart. He is preparing to be the President of all of the people of the United States of America…"
Remember: when they go low, we go high! And Pence did with class and humility. You see, Dixon's outrage, like the liberal media attack dogs', is really about the fact that they are still stunned all their efforts couldn't put Crooked Hillary back in the White House again.
Imagine if a cast of a Broadway production pulled some crap like this on black Obama? The liberal mainstream media would be howling like wolves for blood for days that Dixon apologize or worse demand he be fired from the show. "Trump will be Trump," as fill-in host Martha Raddatz condescendingly noted on ABC's This Week. True, Trump won't turn a blind eye or cheek to blatant racism and lies fomented by the left! There's a new leader in town come January 2017, get used it!
— —
Crystal Wright is author of the newly released book Con Job: How Democrats Gave Us Crime, Sanctuary Cities, Abortion Profiteering, and Racial Division. By day, Crystal is a communications consultant and editor and publisher of the blog Conservative Black Chick.
Follow Crystal Wright @GOPBlackChick on Twitter
— —
This is an opinion piece. The views expressed in this article are those of just the author.