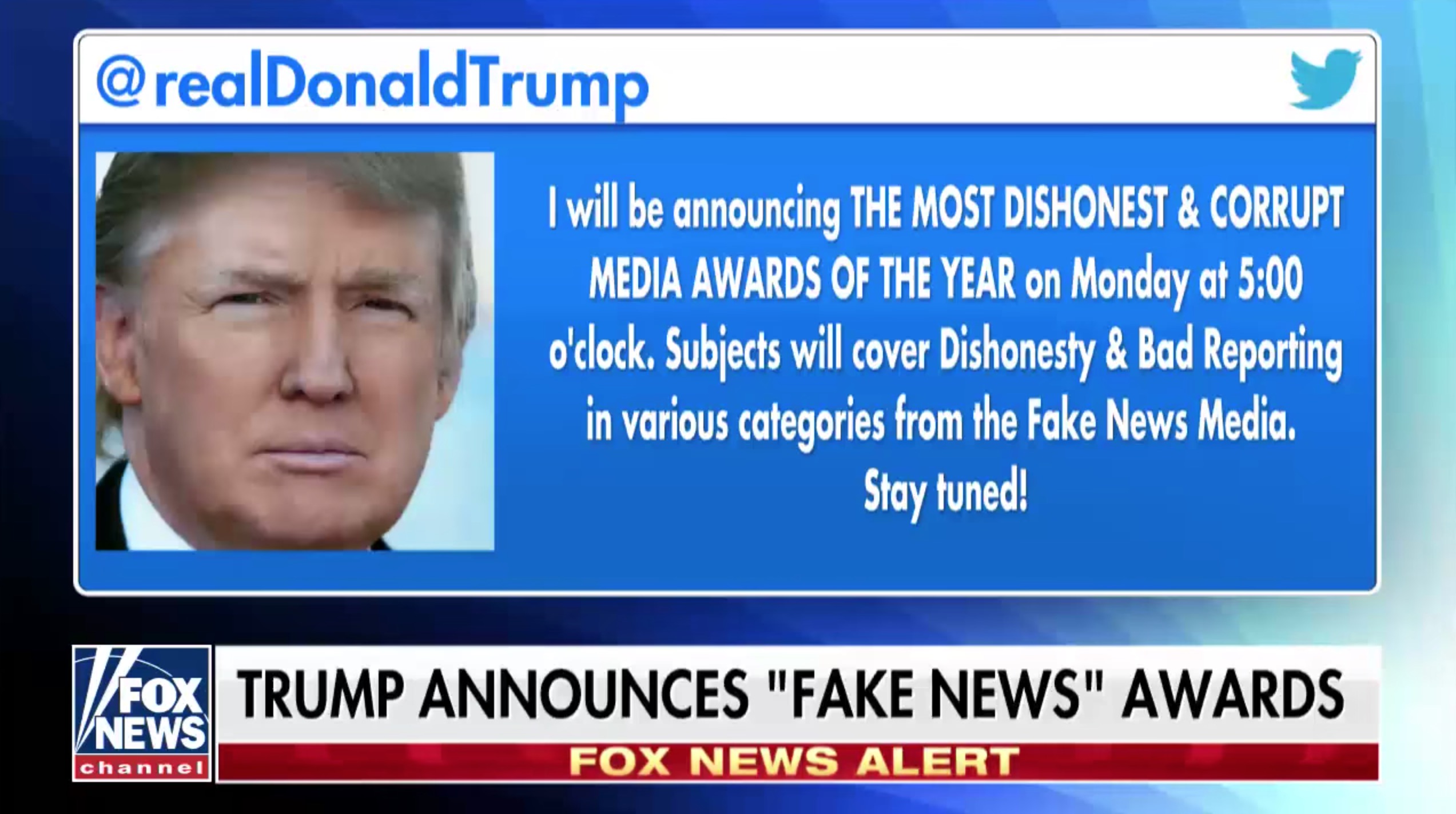 It's Fake News Awards day! And as President Donald Trump has said, "The interest in, and importance of, these awards is far greater than anyone could have anticipated!"
Excitement has been building on social media. And the White House Press Corps has seemingly embraced the big day, going so far as to ask Press Secretary Sarah Huckabee Sanders about it during the daily briefing.
That's not to say there aren't some party-poopers out there trying to ruin the festivities.
"[W]e are told via twitter that today the president intends to announce his choice for the 'most corrupt and dishonest" media awards," Sen. Jeff Flake (R-AZ) said in a fiery Senate floor speech Wednesday morning. "It beggars belief that an American president would engage in such a spectacle. But here we are."
Here we are, indeed. And we at Mediaite don't plan to let Sen. Flake rain on our parade. No sir. We want to know who's going to take home the prizes. So in advance of the big show, we've put together our best guess at the odds in the two most prestigious categories — Fakest Print Publication, and Fakest Network.
We arrived at our prognostication by going through each of the president's "fake news" tweets for the past year. We've collected all the tweets since that date in which the president has branded an outlet as Fake News, and calculated odds of victory based on how many times an outlet has been called out compared to their competitors. (For the purposes of this exercise, we counted a Trump Tweetstorm directed at an outlet as only one instance of a presidential callout. We also didn't count Tweets in which he listed five or more outlets — we considered those a shot at everybody) One of the favorites appears to be all but a sure thing. But the other favorite is surprisingly lukewarm.
So with a quick shoutout to the haters and losers (like Fox News, which wasn't even nominated), we take a look at the field for the 2018 Fake News Awards:
Fakest Print Publication
The New York Times (2-5)
The Times appears to have a pretty firm grip on this award. For Trump, they're the Daniel Day-Lewis of the Fakest Print Publication category. The president has made them a fairly regular target — going after them on 12 different occasions in the past year.
It's somewhat confusing that POTUS has granted the Times a number of interviews — given his penchant for calling them out on Twitter. Still, they look to be all but a lead pipe cinch to take home the prize.
The Washington Post (5-2)
If anyone can give the Times a run for its money, it's The Washington Post. The Post was in the president's crosshairs five times in 2017. But they rate an upset chance considering they hit the president on an issue he cares so deeply about — crowd size.
If the Post comes up short in the Fake News Awards, the Academy Award might have to suffice. As we see it, they have an outside shot at pulling off the sweep.
Vanity Fair (15-1)
If Vanity Fair gets the award, they'll, without question, owe it to their recently retired Editor, Graydon Carter — with whom the president has feuded for decades. They've been the subject of only one Fake News Trump Tweet this year, but Trump's personal history with Carter is undoubtedly a wild card in the equation.
Wall Street Journal (15-1)
A late entrant, the Journal earned their nomination in the past few days — when the president claimed they misquoted him on a comment he made about North Korean Leader Kim Jong-un.
Throw also, into the mix, that the Journal broke the story of Trump's alleged relationship with porn star Stormy Daniels, and you have the makings of a real contender that wasn't on anybody's radar this time last week.
Fakest Network
CNN (6-5)
CNN is the expected favorite in this category. But they are, perhaps shockingly, just a lukewarm choice over another rival.
On 10 occasions in the past year, the president has seen fit to blast this network on Twitter.
If the winner of this category was still in doubt, however, perhaps Tuesday's confrontation between Trump and chief White House correspondent Jim Acosta might have cinched it.
NBC News (7-5)
That's right. We have NBC as an extremely strong second choice to take home the Fakest Network trophy. That's because Trump has bashed NBC eight times over the past year.
That Oct. 12 tweet "might be worse than CNN," could provide a window into the president's thinking here.
ABC News (4-1)
This, in our view, is the worst value on the board. Yes, the president has ripped ABC a couple of times in recent months.
But most of the president's ire was directed at correspondent Brian Ross, and Trump congratulated ABC for suspending him after he botched a report on the 2016 campaign. We'd be shocked if ABC pulls this off.
MSNBC (6-1)
Another entrant whose victory would surprise us. Trump didn't even bother to name them in his lone Tweet criticizing them since October. He simply retweeted his social media director Dan Scavino.
The ace in the hole for MSNBC is Joe Scarborough. Could Trump's anger towards him — and fiancée Mika Brzezinski — carry the network to victory? It may depend on whether or not the president tuned in to Morning Joe this morning for some rage-viewing.
***
If it wasn't obvious from the highly sarcastic tone of what we've written above, let's just be clear that the Fake News Awards is a painfully stupid idea. Every outlet is capable of making mistakes. But none of the major news organizations — from The New York Times to Fox News — deserve to be branded as "Fake News," much less from a president who is currently setting records for rampant dishonesty.
Either way, we'll be watching!
[image via screengrab]
——
Follow Joe DePaolo (@joe_depaolo) on Twitter
Have a tip we should know? tips@mediaite.com
Joe DePaolo - Senior Editor