Weinstein Reportedly Spent So Much Covering Up Misdeeds That He Couldn't Afford Child Support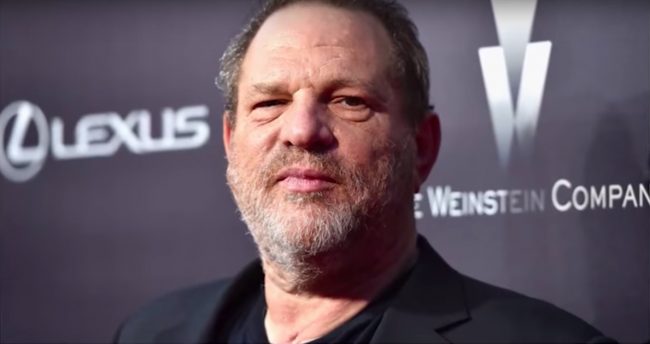 New information about the days leading up to the demise of movie mogul Harvey Weinstein reveals that he asked to renege on child support because he was so financially tied up in covering up his misdeeds.
Vanity Fair reports that "one colleague [said] '[Weinstein] was burning through [money]' on attorneys and other advisers and, whether related or not, was working to unload some of his real estate." For this reason, he "reportedly became so strapped for funds that he requested suspension of child-support payments to two daughters from his marriage to Eve Chilton, a former assistant of his."
The article also details possible attempts to delete incriminating files in the last few weeks up to the publication of the New York Times's scathing exposé of Weinstein. Frank Gil, The Weinstein Company's former vice president of human resources, reportedly went into the office on a weekend and stumbled upon "a security team sweeping the premises for possible listening devices." After the allegations against Weinstein were made public, Gil allegedly "offered to provide proof—in exchange for a seven-figure payment—that T.W.C. president and C.O.O. David Glasser and Weinstein's brother, Bob, had been the ones who had leaked damaging details to the press."
Weinstein reportedly refused the offer but said he would "double Gil's company salary if the H.R. chief would share his information, in person, with one of Weinstein's attorneys." Both men were fired from the company days later.
Weinstein was also particularly concerned with the destruction of a particular digital file; a list of names of 63 women in four different locations: New York, Los Angeles, the United Kingdom, and Cannes, France. No sources claimed to know why exactly the file was so damaging to Weinstein, but it seems reasonable to deduce that those sources can make an educated guess.
A spokesperson issued a statement to Vanity Fair, which reads, in part: "Mr. Weinstein is prevented from responding to the many provably false assertions made in this article, but looks forward to doing so at the appropriate time and in the appropriate forum. . . . Frank Gil was/is an invaluable employee and friend of the Company."
[featured image via screengrab]
Have a tip we should know? tips@mediaite.com