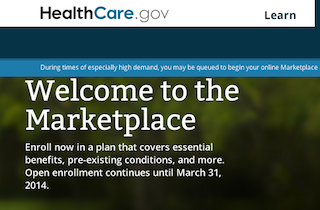 According to sources familiar with the program, about 29,000 people selected a health care plan through the newly-improved Healthcare.gov on Sunday and Monday, more than enrolled during the entire month of October.
After a disastrous rollout of the Affordable Care Act's federal exchange website, only 26,000 people selected plans in the first month, nowhere near the 500,000 the administration had projected for October. 100,000 reportedly signed up in November as the site slowly became more workable, a fourfold increase but still drastically below expectations.
The administration completed a round of frantic repairs to the website on Saturday that it assessed would make the site accessible for the "vast majority" of users; early data suggested the site had seen about 1 million visitors on the days following the repairs.
The 29,000 represents customers who have selected an insurance plan, not necessarily purchased one. It does not reflect any purchases made on the fifteen state exchanges, which, as of October, were outpacing the federal purchase rate.
The new numbers come as President Barack Obama relaunches a promotional drive for his signature legislation, in hopes of putting its first two months behind him. The administration is racing the clock, hoping to sign up millions of customers before the March 31 deadline. The number should come as a welcome sign to insurance companies, who need a broad swath of enrollees to set competitive premiums—though back-end problems with the site, which continue to send inaccurate information to providers, is still of concern.
That the numbers are encouraging for the site's progress is underlined by the fact that someone leaked them, as Roll Call's Taegan Goddard put it on Facebook:

The administration was extraordinarily reluctant to release enrollment figures in October; both today's number and November's preliminary number of 100,000 were more actively snuck to the press, suggesting a growing confidence from the administration in the website, though not a growing confidence among the media for independent verification of ACA data.
[h/t POLITICO]
[Image via screengrab]
——
>> Follow Evan McMurry (@evanmcmurry) on Twitter
Have a tip we should know? tips@mediaite.com