Here's the Paul Rudd Doppelgänger Who Helped Take Down the Airport Homophobe
For a few blissful hours on Monday, the entire internet believed that actor Paul Rudd was involved in the tackling of a violent homophobic lunatic at the Dallas-Fort Worth International Airport last week. But then, Rudd's representative confirmed that it was, alas, someone else.
But who is this mysterious Paul Rudd lookalike? One name has emerged and it is Ben Kravit, an associate brand manager for Dr. Pepper who lives in Dallas.
First a friend of Kravit's identified him in a Facebook post about the story, saying, "Ben Kravit they think you're Paul Rudd haha":
Then the tweets from Kravit's friends started pouring in:
#PaulRuddSavesLives Ben, looks like your days of telling girls you are Paul Rudd are coming true @bkravit

— Bill Foley (@wfoley85) October 27, 2014
No, that wasn't Paul Rudd tackling an airport homophobe http://t.co/zK5HL3xxL7 via @TIMECulture it's @bkravit

— Regina Campbell (@ReginaJoy_) October 27, 2014
Finally, a piece went up identifying Kravit as the man of the hour on the website for what appears to be his former fraternity at MIT: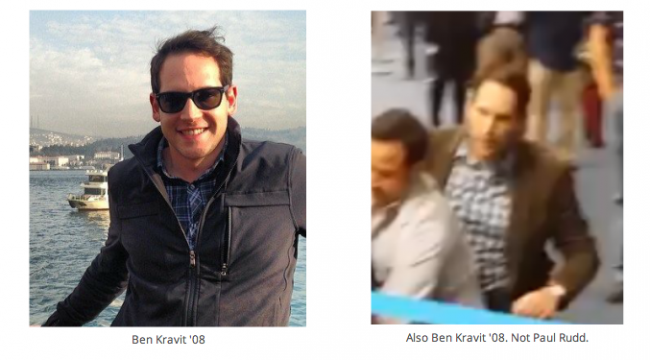 "As reported by Jezebel, Paul Rudd has excited the internet with his assistance in the takedown of an attacker yesterday at the Dallas Airport. But it turns out it wasn't Paul Rudd at all, it was our very own Ben Kravit '08!" the author wrote. "So it turns out that the appropriate hashtag of the day is actually #BenKravitSavesLives, rather than #PaulRuddSavesLives."
So, there you go. Either Ben Kravit's friends have conspired to make him a hero, or we have found our man. The only question left to be answered is this one from @geekgirldiva:
@geekgirldiva @SaraJBenincasa @bkravit are you single Ben?

— Bill Foley (@wfoley85) October 27, 2014
Watch the NSFW video below (with not Paul Rudd appearance at the 1:20 mark) below:
UPDATE — 5:57 p.m. ET: Ben Kravit himself has confirmed to Mediaite that it was him — and not Paul Rudd — in the video from the Dallas airport:
@TheMattWilstein not Paul Rudd but that's me. Happy to stand in for him if he ever needs it. #PaulRuddSavesLives #doppelganger

— Ben Kravit (@bkravit) October 27, 2014
[Photo via screengrab]
— —
>> Follow Matt Wilstein (@TheMattWilstein) on Twitter
Have a tip we should know? tips@mediaite.com