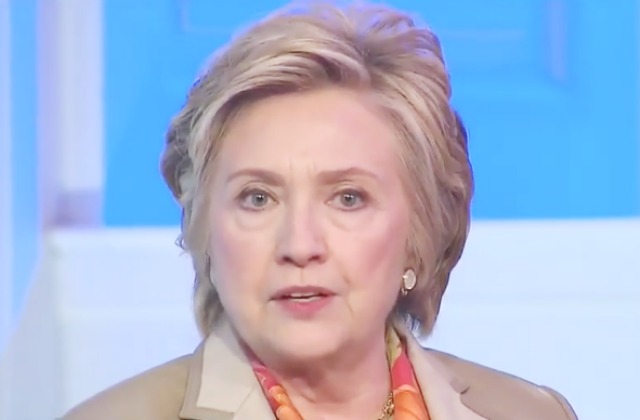 If Democrats would prefer Hillary Clinton disappearing instead of re-litigating the election with her new book, then we have some bad news.
What Happened is out in stores today, and Clinton did an interview with NPR's Rachel Martin in order to promote her new memoir. Clinton's been getting a lot of criticism lately for using her book to blame her political opposition (again), and today, she fielded questions about her political blunders and how things might've gone under slightly-different circumstances.
Eventually, Martin asked Clinton about how "some Democrats" don't want her involved in the party's future anymore. Martin went on to note "writing this book is opening old wounds, re-litigating a past and it doesn't help move the party forward. Have you reconciled that, that people might not want you around as the party steps forward?"
Even though Clinton has said she will not run for office again, she told Martin that she has no intention of fading away:
"They don't have to buy my book, and they can turn off the radio when they hear me talking. I'm not going anywhere. I have the experience, I have the insight, I have the scars that I think give me not only the right, but the responsibility to speak out. And 2018 is going to be incredibly momentous. We have a chance I won 24 congressional districts that have a Republican member of Congress sitting in them. And I think that gives us some idea that maybe, if we are really focused we have a chance to pick up seats, maybe take back the House. We've got to defend the Democratic senators. I have a lot of ideas about how best to do that."
Clinton went on to say that she's seen more supporters who want her to remain in the spotlight than any "naysayers" telling her to withdraw into the background.
[Image via screengrab]
— —
>> Follow Ken Meyer (@KenMeyer91) on Twitter
Have a tip we should know? tips@mediaite.com