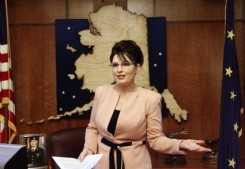 Interesting little tidbit buried in today's New York Times piece about life in Wasilla, Alaska, better known as the home of Sarah Palin. The Times spoke to Palin's father Chuck Heath, who in describing his own travel activities — he apparently appears on behalf of conservative candidates around the country — had this to say about influencing his daughter:
Mr. Heath said he was careful about nudging his daughter toward the things that interest him.

"I don't want to push the wrong button with Sarah," he said. "Besides, she doesn't make the decisions. Let me retract that. I'm sure she thinks them over and she has a lot of say as to yes and no."
Which begs the question: who is making the decisions? Under normal circumstances a politician — even as nebulous a one as Palin — would have a group of reasonably well-known, accessible people who surround her: advisers, consultants, managers. As it stands, publicly anyway, Palin does not. Her well-known spokesperson, Meg Stapleton, made a well-covered departure months ago and no replacement as yet been made…or at least announced. Meaning, among other things, the press's only route of access to Palin is either through her powerhouse Facebook page or Fox News. Meanwhile, you don't get the sense Todd Palin is, er, wearing the pants in the family…metaphorically speaking! So, again, who is making the decisions?
It's entirely possible Palin's father, whom the article also reports has not seen her in a month, just is not intimately familiar with the structure of her operations. But still, the fact that no one seems able to answer the simple question of who is running the Sarah Palin show strikes as the most alarming result yet of Palin's reluctance to submit herself to the press.
[h/t Ben Smith]
Have a tip we should know? tips@mediaite.com