Holder Reportedly Pledged To Reassess Guidelines To Protect Journalists' Rights In Off-The-Record Meeting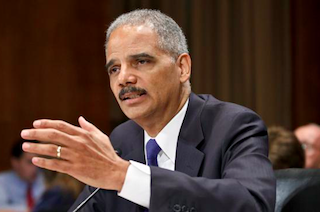 Attorney General Eric Holder expressed commitment to reevaluating Justice Department guidelines about investigations involving journalists, according to reports. In a controversial off-the-record meeting with journalists, Holder and aides listened to their concerns amid controversy surrounding the DOJ's crackdown on leaks.
Holder and officials "completely endorsed the president's statement that reporters should not be at legal risk for doing their job," said Washington Post executive editor Martin Baron, who attended the meeting. "They acknowledged the need for changes in their own guidelines and the need to have a more rigorous internal review."
"It was a constructive meeting," he told the AP. "They expressed their commitment to the president's statement that reporters would not be at legal risk for doing their jobs."
The Wall Street Journal reported that officials also said they were open to annual reviews with news organizations. Some specifics, via the New York Times:
According to an adviser familiar with the deliberations, Mr. Holder has discussed expanding a requirement for high-level review of proposed subpoenas for reporters' phone records so that it would include e-mails. He is also examining whether to tighten a standard for when officials may seek such records without giving prior notice to the news organization.
Holder has until July 12 to bring his proposals to President Obama. The meeting — which comes amid an internal review into the DOJ's handling of leak investigations — created a bit of a media frenzy beforehand as several news outlets (including the New York Times, Associated Press, and Fox News) did not attend because they objected to the off-the-record stipulation. Reportedly representatives who did attend included those from the Washington Post, POLITICO, the New York Daily News, the New Yorker, and the Wall Street Journal.
The WSJ reported "those ground rules were later adjusted."
Have a tip we should know? tips@mediaite.com